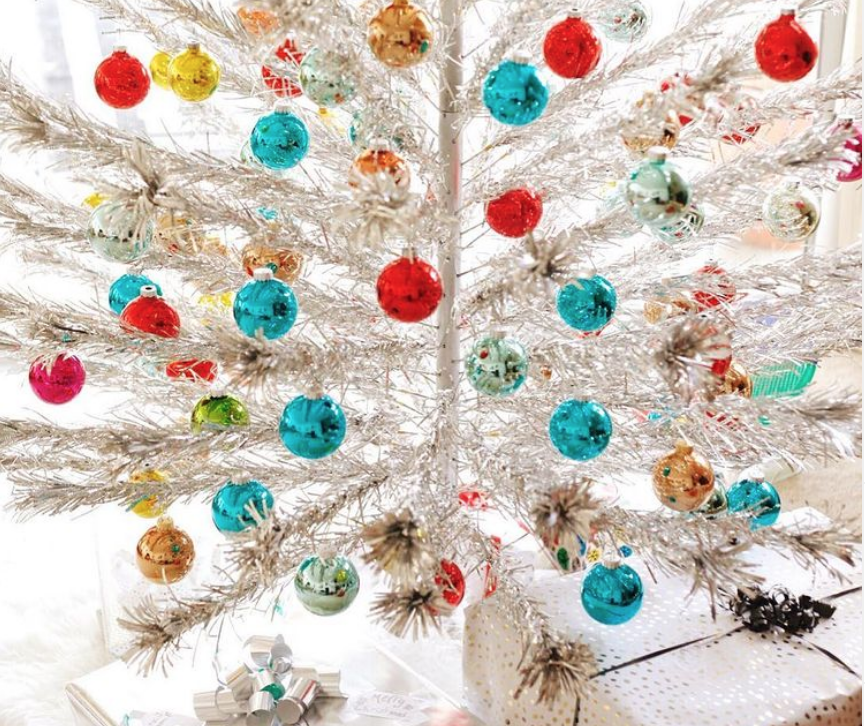 Aluminum Trees
Get the lowdown on the rise and shine of these midcentury sensations.
Aluminum Christmas trees, all the rage 60 years ago, are making a comeback in a blaze of shiny glory. Find out more about this glitzy and groovy holiday decoration, how Charlie Brown had a hand in their demise and how to spot and then care for a vintage tree. (Plus, enjoy photos of the trees used in Christmases past and present, including cool ones that caught our eye on Instagram).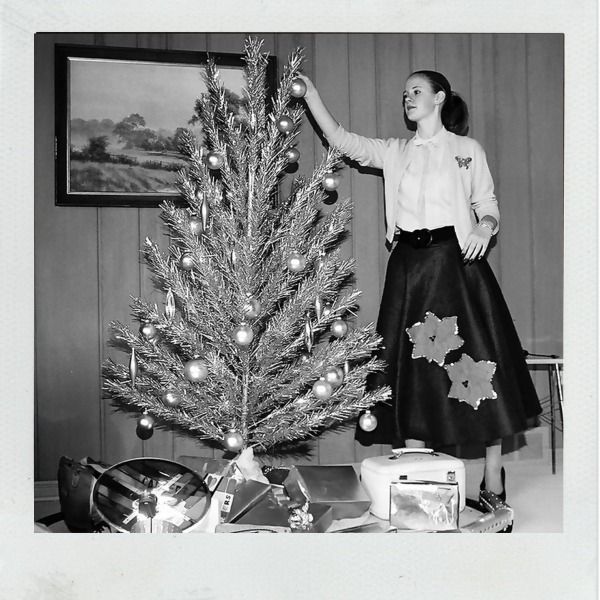 FROM WAR TO WHIMSY. In the 1950s, aluminum was abundant. Aluminum companies had ramped up production during World War II, and by the war's end they had a whole lot of it. It was time to get creative. In 1957, Chicago-based Modern Coatings created a new type of artificial Christmas tree—a metal one. Fake Christmas trees had been around for a while, but nobody had seen anything like this one. The downside was that these trees were bulky and heavy, and they cost $75 to $100, which was expensive at the time.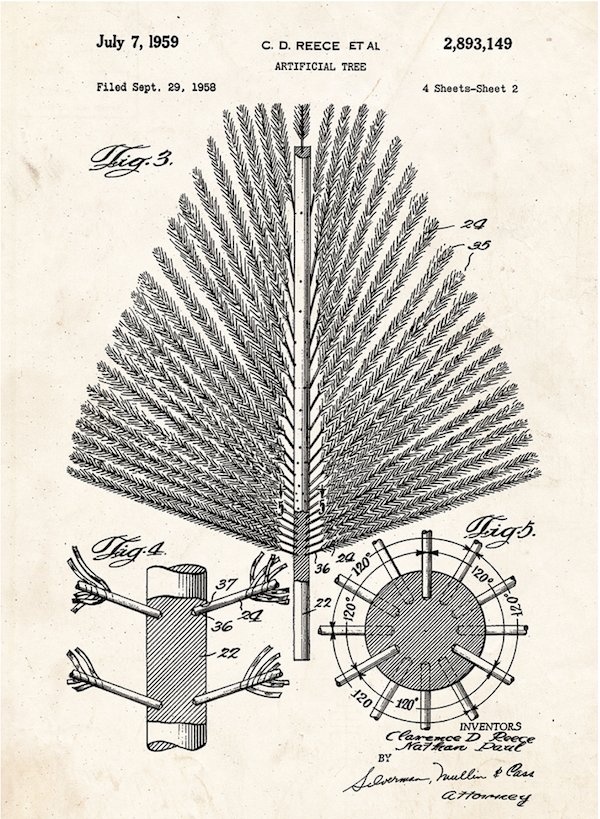 In December 1958, the vice president of toys for Wisconsin manufacturer Aluminum Specialty was at the company's annual Christmas lunch, which executives from Ben Franklin department stores were attending. One of the execs mentioned seeing a metal Christmas tree in a Chicago window display. The tree was so bulky and heavy that he knew it wouldn't sell in his stores. He wondered if Aluminum Specialty could create a lighter, cheaper version for Ben Franklin stores to sell. The deal was made. The Aluminum Specialty version was called the Evergleam Tree. It landed on the department store's shelves in time for Christmas 1959. It came in many different sizes and cost between $5 and $25. Housewives across the country were smitten.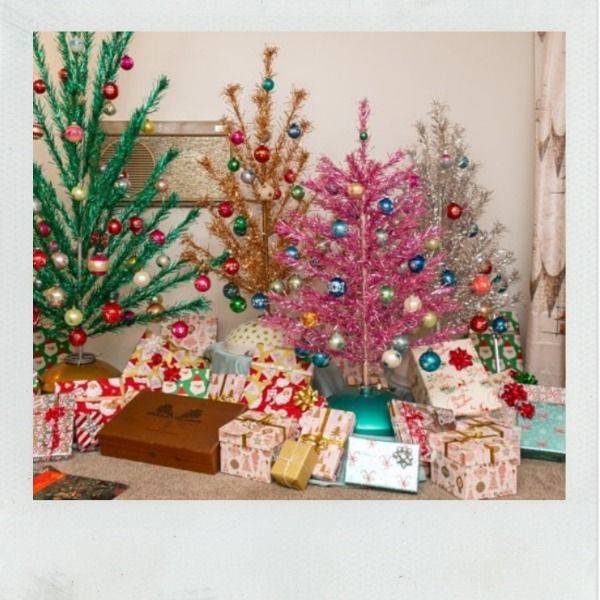 A METALLIC REVOLUTION. Aluminum trees were all the rage for several years. Millions were sold. Cheap! Shiny! So many different colors and manufacturers to choose from! The trees came with one warning: Don't put lights on them. The fear was that people would be electrocuted if any wiring was exposed. The solution was perhaps even better than lights: spinning color wheels! Placed on the floor near the tree, they cast different-colored lights on the branches, and the lights moved as the wheel spun—comparable to today's outdoor holiday projector lights. People placed glass ornaments on the trees, which added to the color-changing effect; Shiny Brite ornaments were the most popular, and remain sought-after collectibles. The aluminum tree, decked out in colorful ornaments, became an integral part of the American Christmas tradition.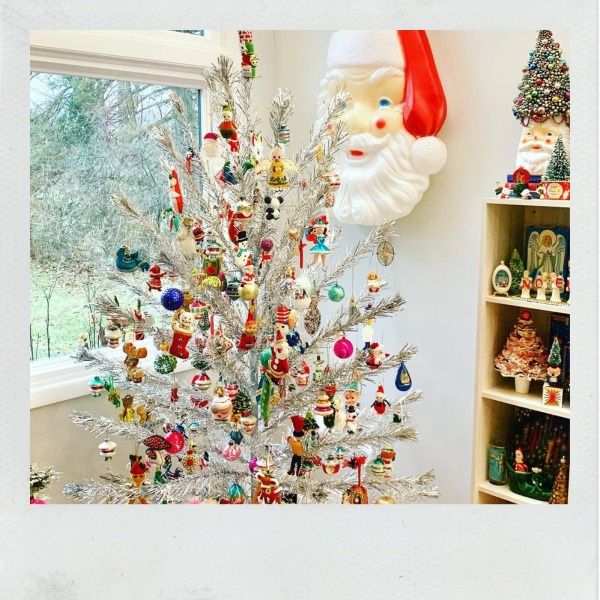 THE LUSTER FADES. In 1965, a cartoon changed everything. In "A Charlie Brown Christmas," Lucy sends Charlie Brown and Linus out to buy the biggest aluminum tree they can find. When they find it, they decide that it's a symbol of how fake Christmas has become. They decide to get a tree that, even in all its scrawniness, is natural and representative of the holiday's true spirit. Suddenly, the Evergleam Tree wasn't so desirable. Sales began to wane, and by 1969 production had stopped.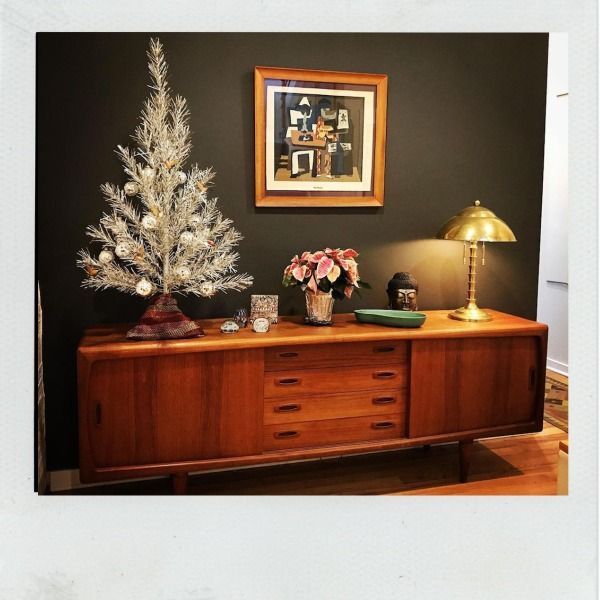 THE COMEBACK. Fast-forward to 2022, and aluminum trees are back in style. There's even a museum devoted to them. The annual pop-up Aluminum Tree and Aesthetically Challenged Seasonal Ornament Museum (ATOM) in Brevard, North Carolina is the only one of its kind in the world. There are dozens of trees, and each year there's a different theme. The Marilyn Monroe and Elvis trees are a sight to behold. Some of the trees have color wheels, providing a pretty light show. "In a region where people are adamant about preserving and protecting nature, ATOM strives to preserve the legacy of the distant cousin of our forest trees, the Aluminum Christmas Tree," states the Transylvania Heritage Website.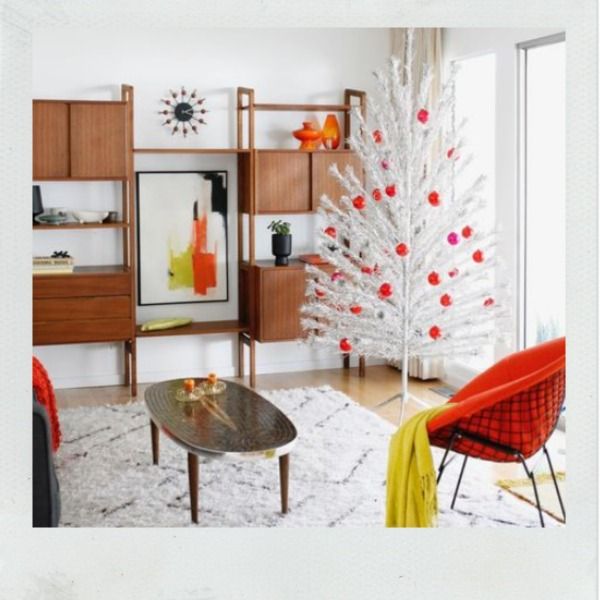 BUYING TIPS:
• Aluminum Christmas tree prices vary widely, from a few hundred dollars to a few thousand. Silver trees seem to be the cheapest, while pink is the most expensive. The smaller the size, the lower the price.
• Beware of "needles" that are not 100 percent aluminum. These are highly flammable. To ensure safety, use a color wheel to light the tree.
• How can you tell if a tree is vintage? The branches on vintage trees can be removed from the trunk, which has holes where the branches are inserted. Newer trees tend to have branches that are fixed to the trunk and fold in and out.
• Consider building your own tree by buying branches and a pole separately. You'll find may sellers on eBay and Etsy who have individual parts for sale.
• If you don't want to hunt for a vintage tree, you'll find new reproductions online and in stores.
SHOW SOME TLC. If you've lucked into a vintage tree that's in good condition, take care so you can extend its life even longer. Vintage trees originally had a paper sleeve around each branch for protection when stored. The problem, says Rebecca Suddeth, curator of ATOM, is that, due to age, the "needles" may come off when the sleeves are removed. The museum stores each of its trees in its own plastic tub, with the branches removed and placed in the tub next to the trunk, she says. The trees have held up extremely well, she says. Cleaning vintage aluminum trees can be tricky since there is a risk of losing the "needles." Some websites recommend lightly dusting the branches. Rebecca says the museum trees haven't been cleaned in decades, for fear of damaging them. They still look brand new, even after 60 years, she says.
---
WORDS Liz Carleton
---
RESOURCES Visit the Transylvania Heritage Museum in Brevard, North Carolina for the annual pop-up-event.  Visit the Wisconsin Historical Museum's Evergleam online exhibit here. You can buy the Evergleam book here.
---
HOME PAGE
Join the newsletter to receive the latest updates in your inbox.