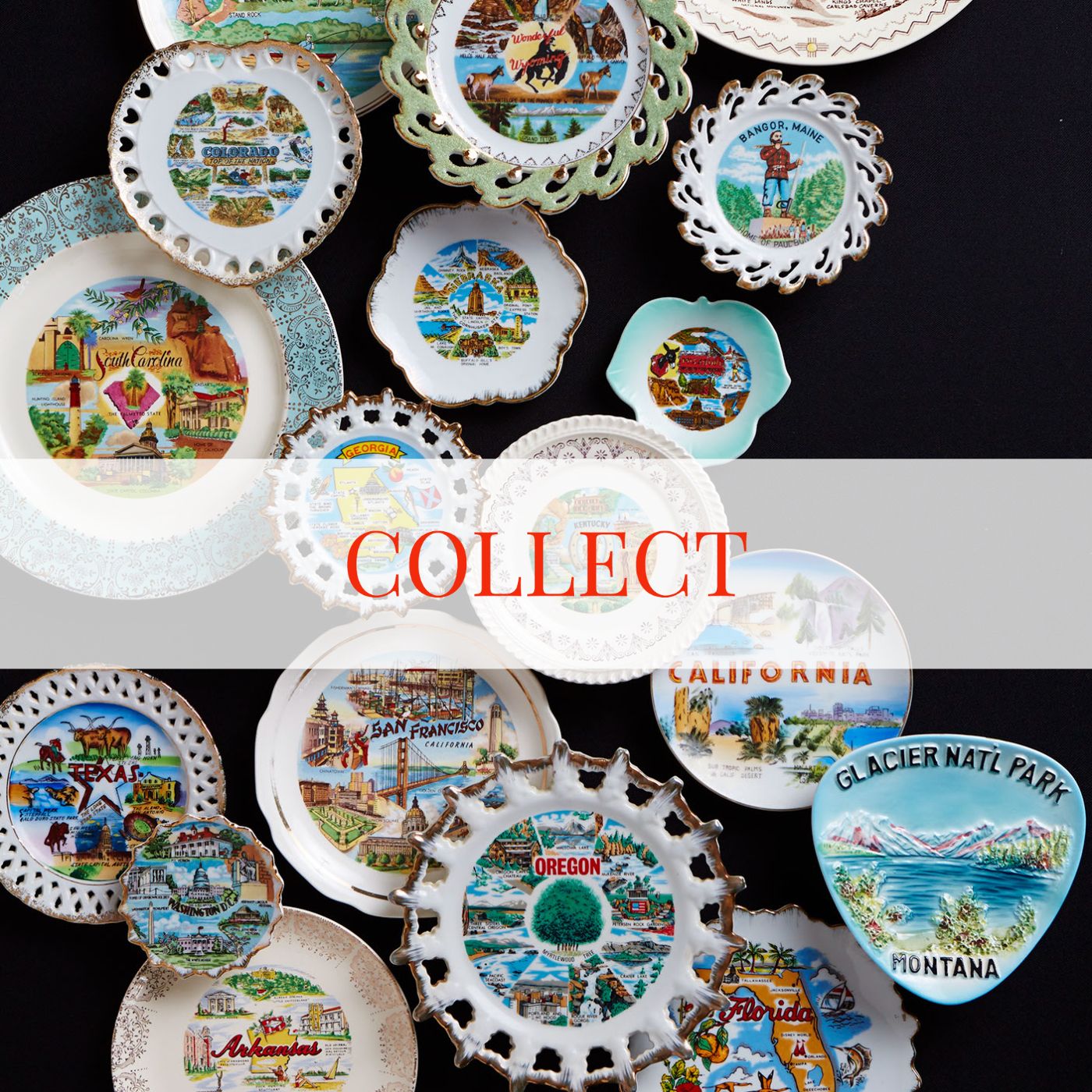 Been There, Got That
Part kitsch, part Americana and all fun, souvenir plates make conversation-starting collectibles.
Marketed as travel souvenirs, vintage state plates were often made by prominent dishware manufacturers such as Homer Laughlin and Vernon Kilns, but they are far from fine china. "Most of the plate designs are simply a decal with a glaze over it," says antiques expert Tim Luke. Perhaps that's why they never really called out to hunter-gatherer extraordinaire Daniel Mathis (@notaminimalist)…until fate intervened. "I saw souvenir plates at estate sales and flea markets for years, but resisted starting a new collection. Then, one weekend about three years ago I happened upon a dozen or so at an estate sale for a song, so I grabbed them," he says. "Then the same thing happened at the next estate sale that day. I had an instant plate collection!" And so it began.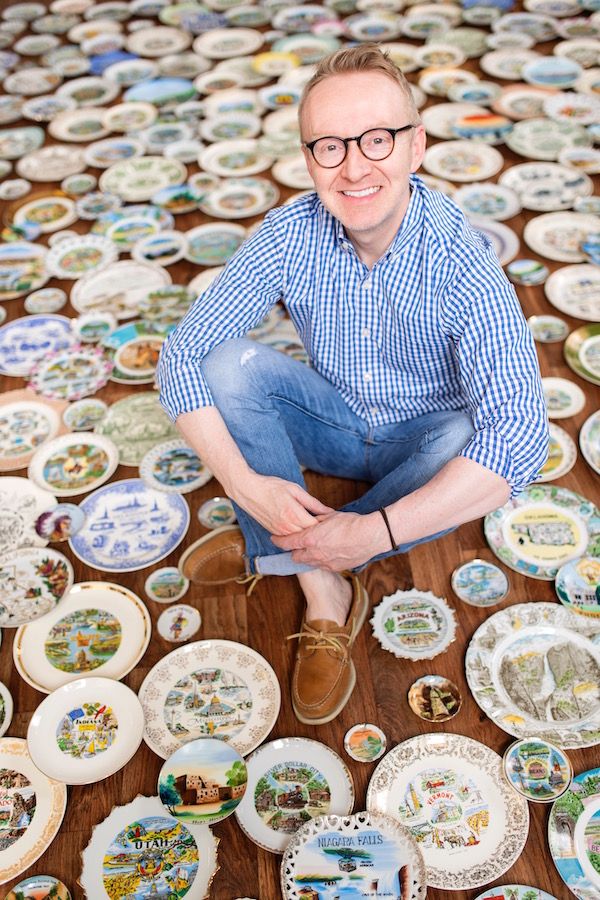 AND SO IT GROWS
Since finding the stacks that got him going, Daniel—whose other treasure troves include Ozark Tourist Pottery, portraits, and dazzling insect pins, among others—has trained his eye to the palettes and places that he'd like to add to his collection that now numbers in the hundreds. "The main thing I look for is the design and coloration—and the location," he says. "There are certain rich and muted designs that almost look like a watercolor, and those get my attention." He also picks up plates related to his favorite vacation spots, as well as cities and states where he's lived. "I also like an assortment of sizes, so I still watch for smaller plates to add, which are a little harder to find," Daniel notes. Although he views his collection as an eclectic whole and doesn't have any "holy grail" plates on his list, he confesses a particular love for New Mexico and other desert states, especially when they have variations of cacti on them. "I also love some small plates that I have from Tijuana, Mexico—the colors and images are great."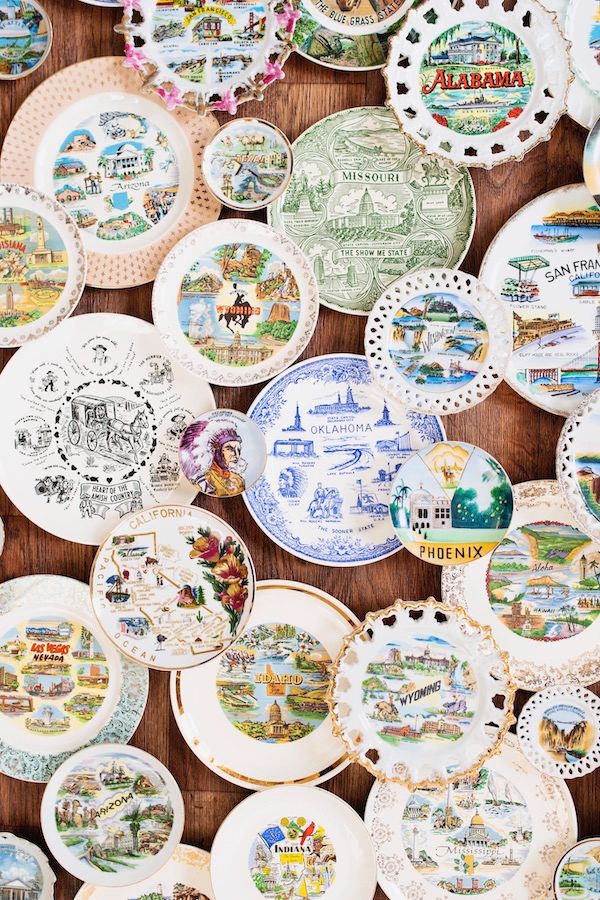 WHEN IT COMES TO SHOPPING
Thrift stores and estate sales provide rich hunting grounds for Daniel, who notes that plates are reasonably priced because "almost everyone bought one or two on vacation," which makes them fairly easy to find. "Flea markets are also good," he says, adding "If they are donated, you almost always find a stack because they've come straight out of someone's kitchen—even directly off the wall, many times still retaining their original hangers!" Unless he's in an antiques store, where prices tend to be higher, Daniel typically finds plates for a dollar or less, but has paid up to $20 for a favorite location. And then there are some freebies: "People from all over the country have sent me plates!" he says. "They want them to go to a good home, and I enjoy adding them to my collection."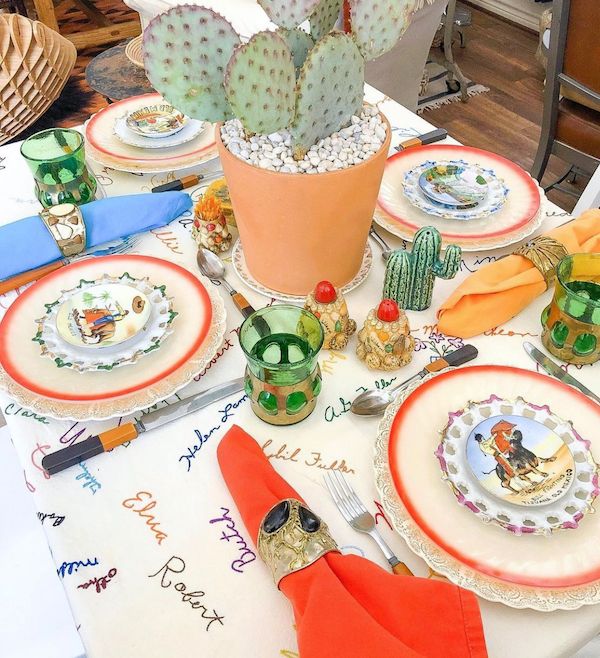 STEPPING UP TO THE PLATES
If you've got a little collection started and feel inspired to keep building, you can follow in Daniel's footsteps and look for those that represent your favorite spots, or take an artistic approach: "You'll definitely notice some design repetition, so you could focus your eye on one design style and build a collection around that," Daniel says. "It probably helps to know that most of the souvenir plates are not food safe—so you could serve wrapped food items on them or just use them for display or as a charger," he advises. Bottom line: If you plan to eat off them or put them in a dishwasher, be sure and check that it is safe to do so. Daniel enjoys creating tablescapes with his, and has plans for a full wall display. However you dish them out, the point is to take a lighthearted approach with these sentimental souvenirs. "They fell out of fashion but remain a fun and inexpensive collectible that make thrifting and antiquing fun," says this accidental aficionado.
---
COVER PHOTO Adam Albright
---
HOME PAGE
Join the newsletter to receive the latest updates in your inbox.