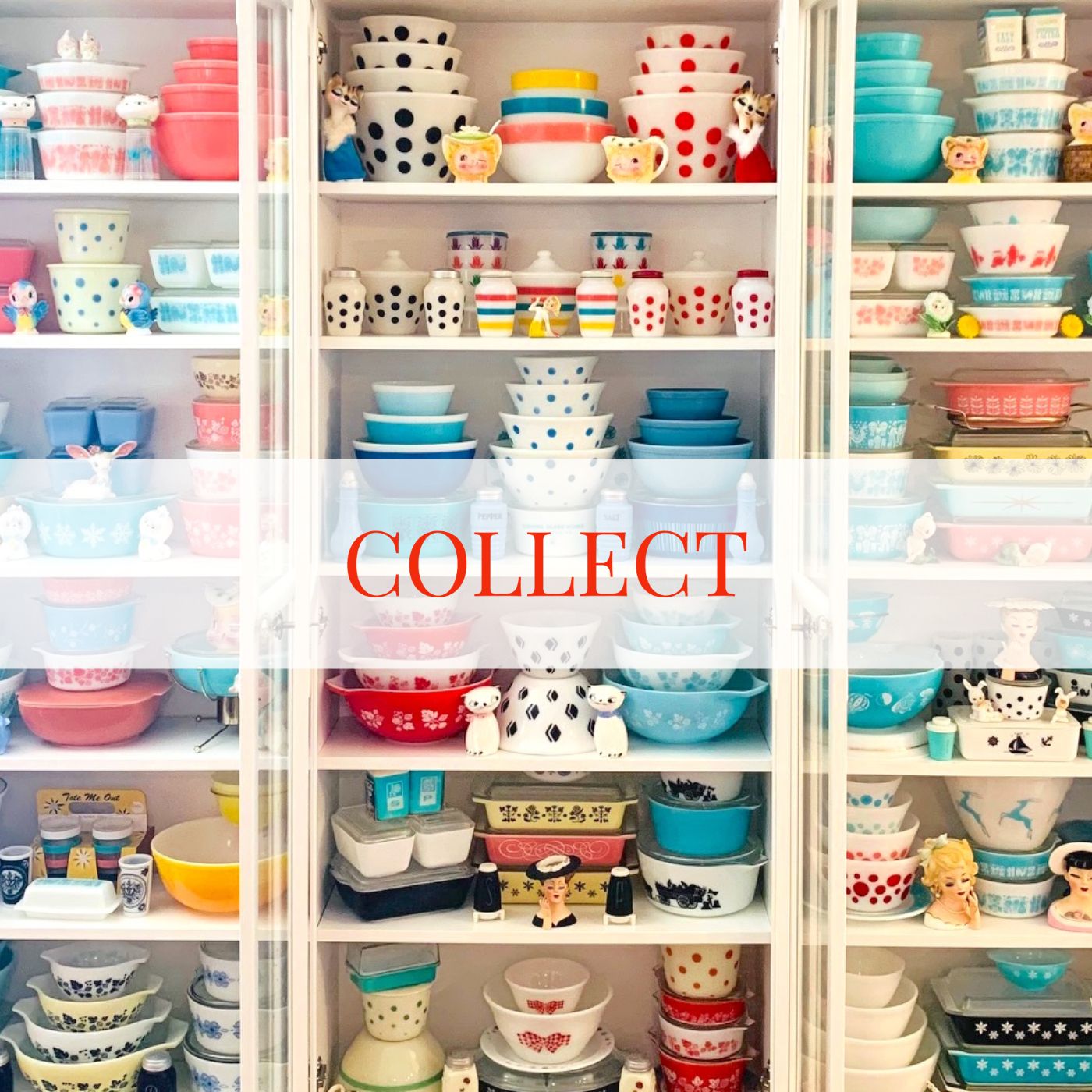 Collector Close-Up: Pyrex
Dish out a healthy serving of sentimentality when you start collecting this classic American glassware.
Kitschy and colorful, vintage Pyrex dishes are rooted in practical history, which is perhaps what makes them particular powerhouses when it comes to nostalgia. Sometime, somewhere, everyone has come into contact with these workaday wonders, so it should be no surprise that they have become hot collectibles. As collector Megan Telfer notes, "for some people collecting is preserving a memory of a family member that maybe used a certain piece or set; for others, it's a fun way to preserve a small piece of history." She walks us through her impressive and colorful pieces and sets (see if you can spot the one that cost $900—it's in the picture below).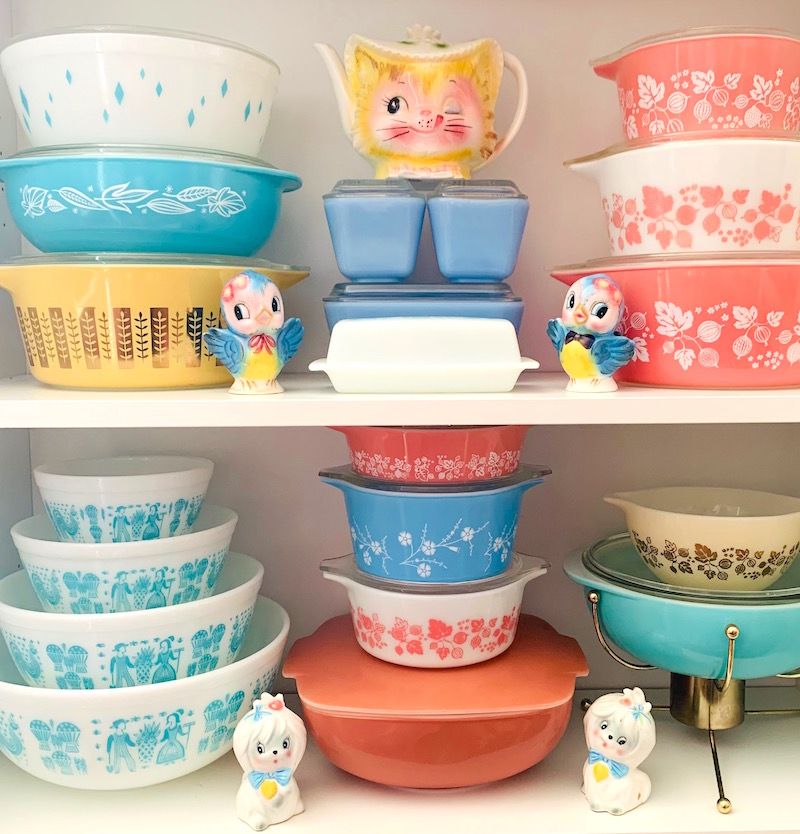 What do you collect? Mostly Pyrex, but also Fire King, McKee Glass, Hazel Atlas, Federal Glass and more.
Know any interesting tidbits? The first set of colored Opal ware Pyrex was the Primary mixing bowl set. It came out in 1945 and was produced until 1949. The set's original retail price was only $2.50!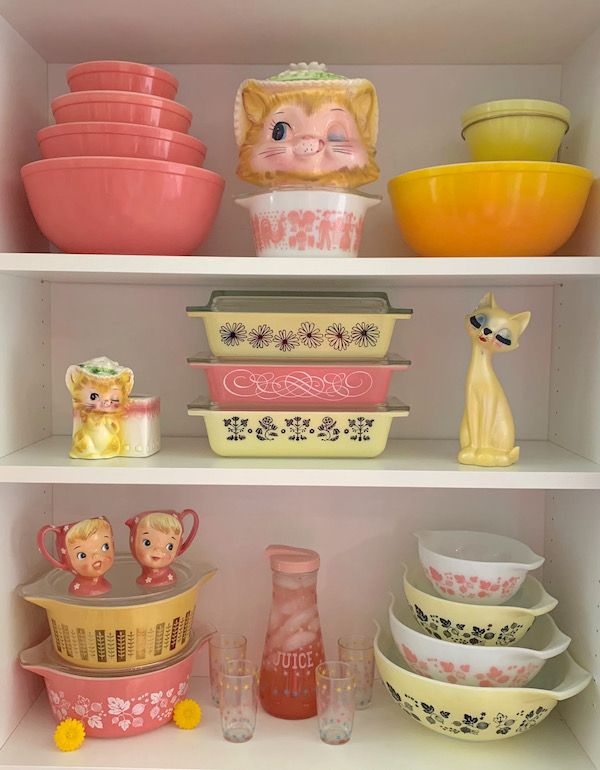 What drew you to it? I started collecting Depression glass, and that lead me into Pyrex. My mom gifted me my first set of Gooseberry bowls for my birthday and it was all downhill from there. I think it was all the different colors/patterns that drew me in but also that collecting Pyrex is almost never ending, because in the Pyrex world you can learn something new just about every day. I have been collecting about 3.5 years now.
Where do you find Pyrex? I have gotten lucky and found pieces here and there at yard sales, but typically most of my Pyrex pieces come from other collectors, antique stores, and online selling platforms such as eBay.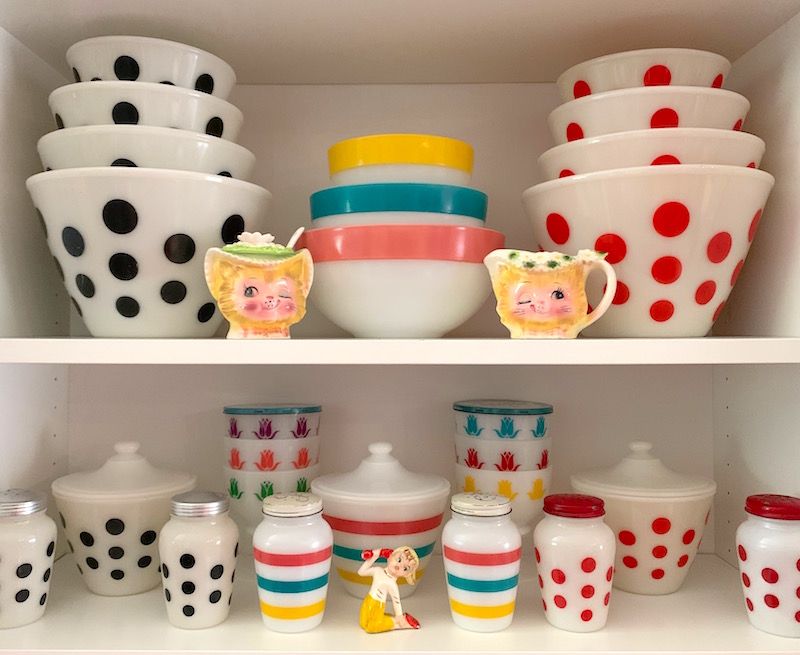 Are there Pyrex communities? There are! There are a ton of groups on Facebook with some fantastic collectors willing to share their knowledge with others, where people share photos of finds, collections or displays. There is also a pretty large following of Pyrex collectors on Instagram. Some bigger cities do Pyrex Swaps if they have enough local collectors willing to participate. We just had our Dallas/Fort Worth swap a couple weekends ago. It's a great place to meet up with collectors you talk to online and make some great friends. I can't tell you how many amazing people I have met all because of Pyrex!
Prize find? My best find ever was a rare turquoise Hex Signs that goes to a very rare turquoise Hex casserole dish. The casserole dish, lid and under plate recently sold on eBay for over $4,000. I got my plate for $18!! FUN FACT: "Hex Signs" isn't an official Pyrex name but rather one that collectors have created and used to identify and refer to the pattern.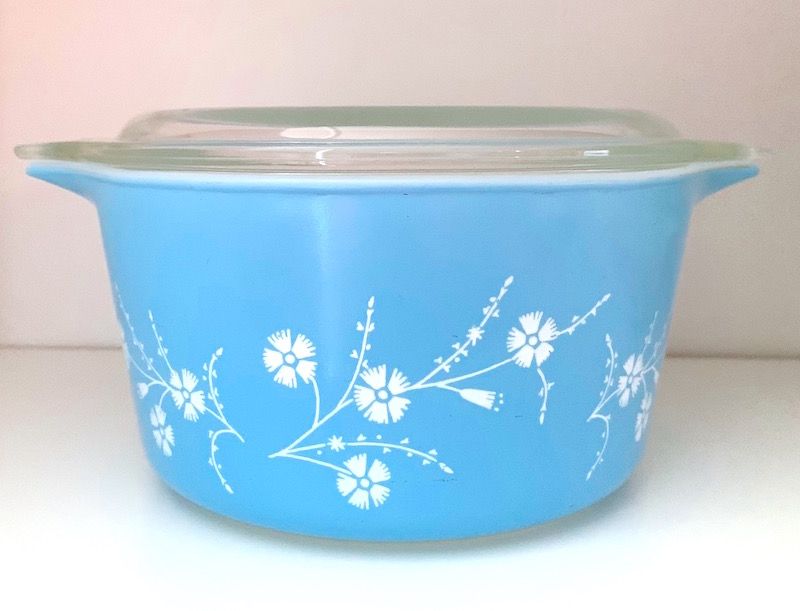 What are you willing to pay? It honestly depends on the piece and how common or rare it is. But I can tell you the most I have personally ever paid for one piece was $900. It's a test pattern piece called Dianthus that was never in production, and it's honestly one of my favorite pieces.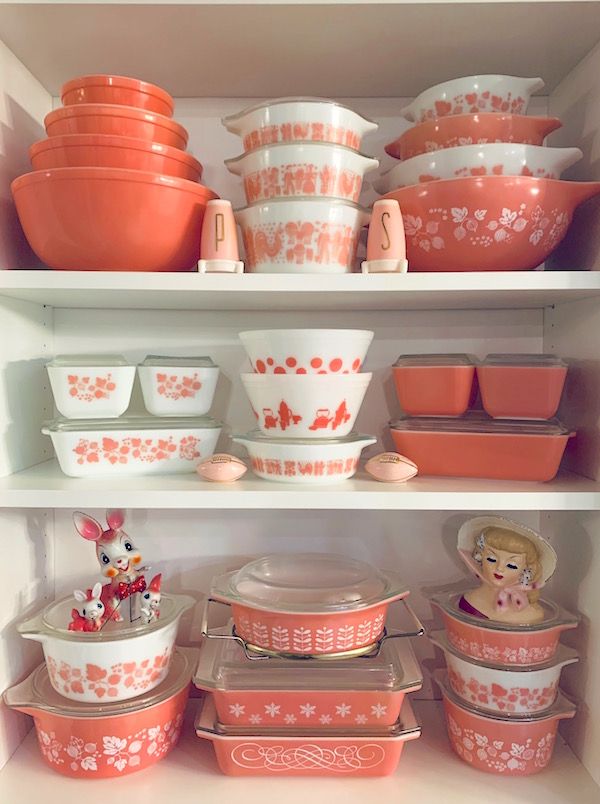 Any styles or colors you particularly love? I tend to gravitate to anything pink and turquoise, and patterns such as Gooseberry, and Butterprint. However, I do have at least a couple pieces in almost every color. Most of the pieces I collect were produced in the '50s to '60s time frame. FUN FACT: Butterprint and Gooseberry were some of the first patterns to grace nesting mixing bowls known as "Cinderella Bowls."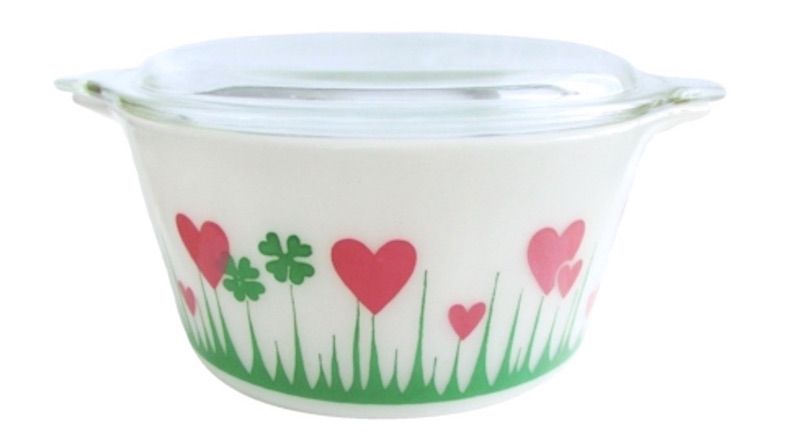 Holy grail? I'll always be on the hunt for a Lucky in Love they are out there but there haven't been many that have surfaced. FUN FACT: The Lucky In Love design is printed on the one-quart Round Casserole (473) and remains one of the most elusive Pyrex designs ever created, in 1959, by Corning Glass Works. Likely a test piece, the dish has fetched over $4,000 at auction. The pattern was re-released three years ago on clear glass in round and oblong shapes with a plastic lid for modern use.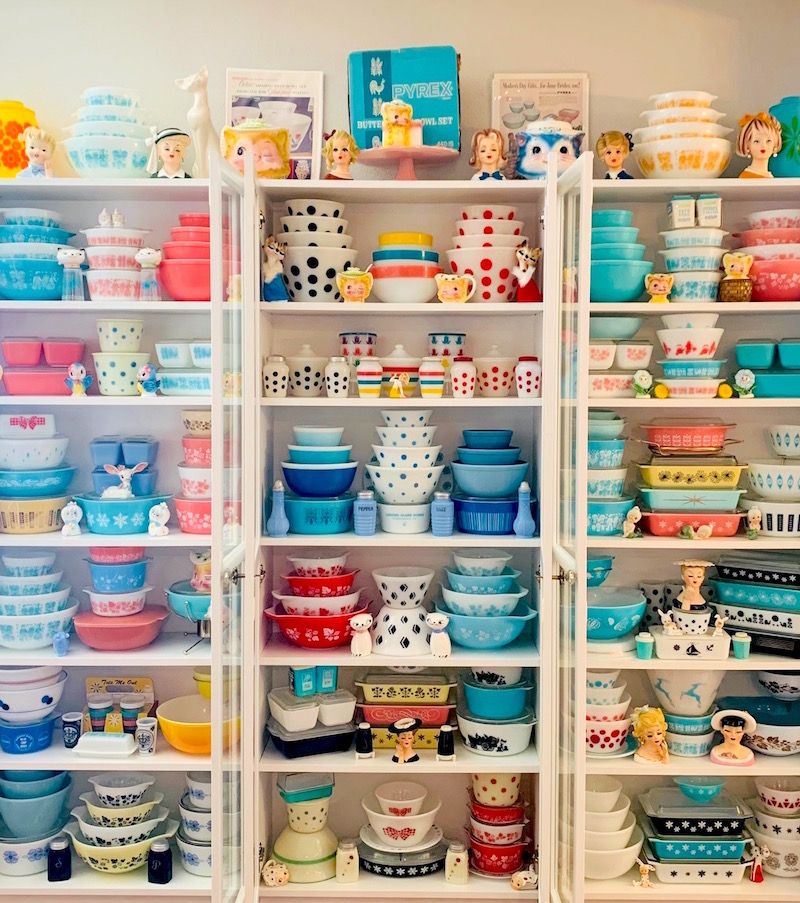 How do you display? I have about 90% of my collection in 3 IKEA Billy Bookcases. I am not a collector that puts stuff in storage. My entire collection is always on display. I have one set of mixing bowls that I use, but everything else is display only that I collect. All my figurines are all vintage as well. Bradley mermaids, Enesco Winkin' Kitties—they look cute with my Pyrex!
Shopping mantra? It used to be "No Pyrex Left Behind," but after a couple years of doing that I was running out of room and really had to narrow down what I loved the most. So now my shopping mantra is more me asking myself if I really love it and can I find a space for it!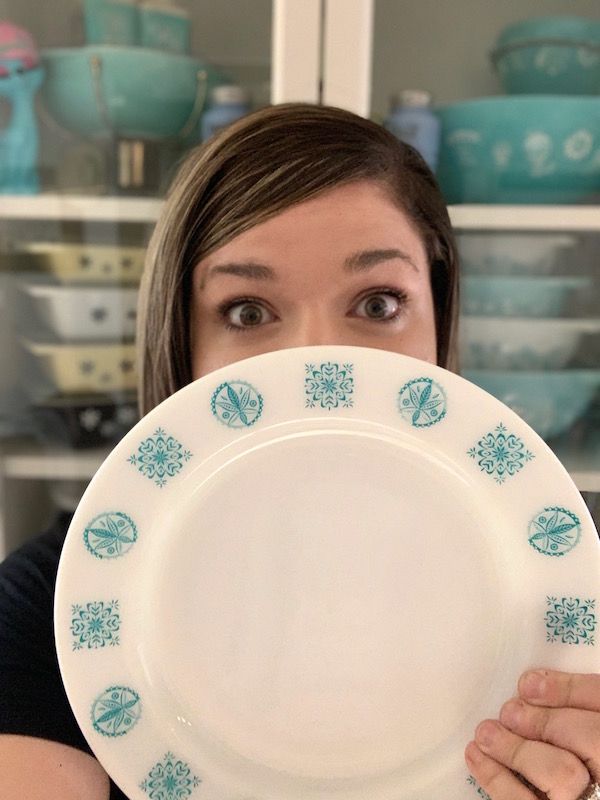 Special care? Pyrex should NOT be put in the dishwasher, it will cause the putter pattern/color and shine to wear away from the bowl over time. You should not use anything abrasive on the outside or inside for cleaning, either. Pyrex can also go cold to hot just fine but CANNOT go hot to cold or it will shatter. Also, you should also never use Pyrex that is chipped, cracked or otherwise damaged.
Do you sell any of your collection? I do sell Pyrex and other vintage glass and collectibles on my Instagram sales page; @pyrex_pixie_sales. I also have an antique booth local to me at The Classy Cactus Antique Mall in Justin, TX.
---
PHOTOS Courtesy of Megan Telfer
---
HOME PAGE
Join the newsletter to receive the latest updates in your inbox.