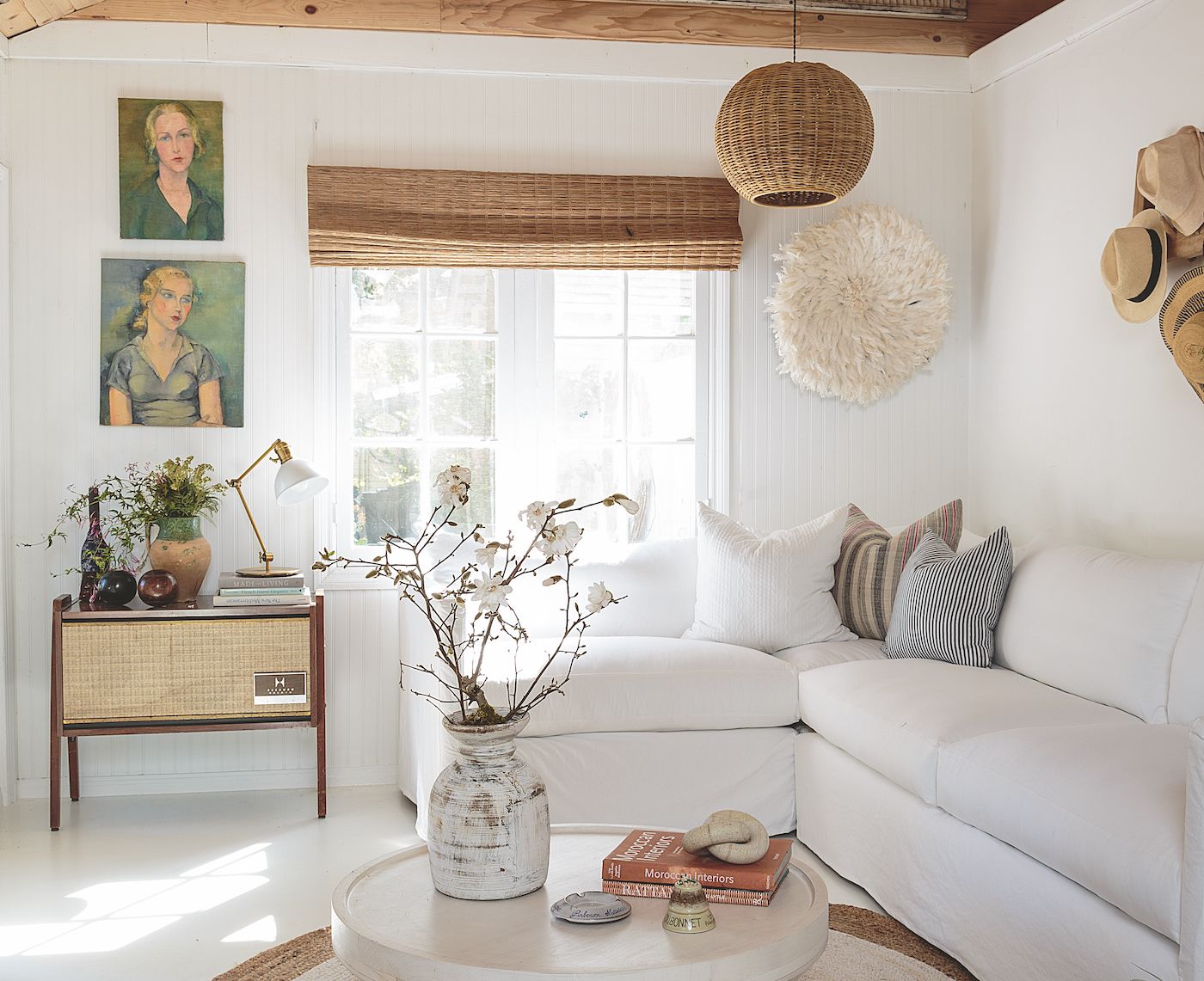 Cottage Charmer
A California designer and shop-owner takes on a labor of love: her own home.
Author Lizzie McGraw, the founder of interiors boutique Tumbleweed & Dandelion, has had the honor of designing many different styles of homes for all kinds of people. She understands that, when designing a space, one should thoroughly understand the lives of its inhabitants. The creative process is fun and adventurous, though it takes patience, imagination and self-awareness to transform your home into your sanctuary. In her new book, Creative Style, Lizzie begins with the basics—textiles, furniture, and accessories—and then opens the doors to 12 of her inspiring interiors projects. They include her own 1920s cottage in California, which she has lovingly restored and furnished with fleamarket finds and upcycled vintage pieces. "In 2004, I happened to be driving down a tree-lined street in the Inglewood area of Los Angeles and I noticed a woman putting up a 'For Sale' sign in front of a small and ramshackle old cottage. I knew straight away that it was my house," she says. "Although I was designing homes for others, I had not yet found my own. Thankfully, the property was affordable and we knew (sort of) how to fix things, so it became our new project." The once-neglected building is now light, airy and full of character—a testament to the power of creativity. But, Lizzie notes, "it has been a long journey, which is still in progress as I find things to redo every year. Making time to work on your own house is always challenging when you are working on clients' homes non-stop, but we continue to improve and reinvent the cottage, one thing at a time."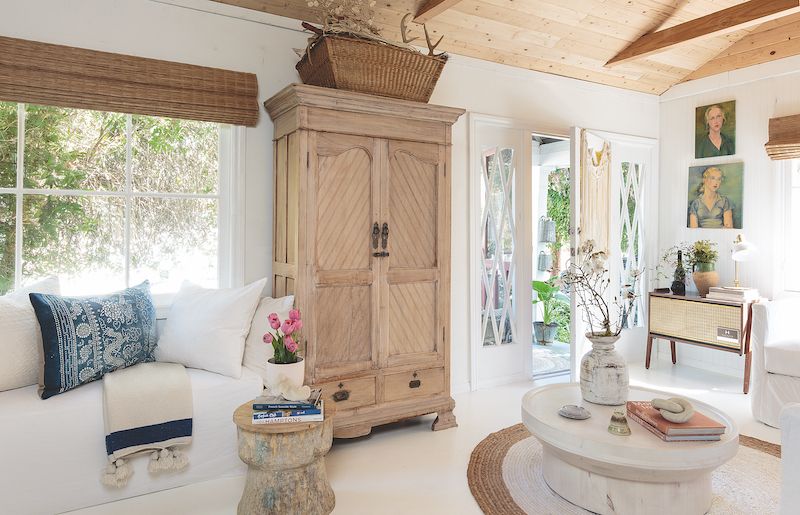 FOR THE AGES. When you work with a neutral palette and beautiful materials, they speak for themselves—you don't need a lot of color. White is timeless and understated, so it is always in style. "I like to unite European influences, represented here by an antique armoire, with contemporary pieces," says Lizzie.
I truly believe in the art of recycling. Not only is it good for the environment but I've also found more treasures at the local flea market than I ever could at a corporate home goods store.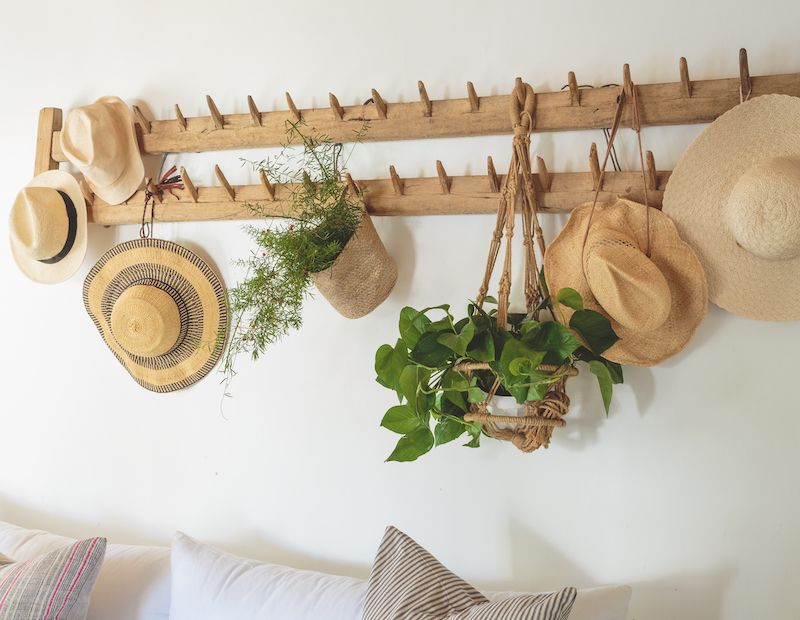 GROUP EFFORT. Rustic, artisanal double peg racks not only have an artistic and organic presence but they also serve multiple functions, from displaying plants to storing hats. The natural finish of the wood echoes the honey tones of the other pieces. "We designed the sofa and coffee table ourselves, but the pendant light and portraits came from flea markets in and around Paris," Lizzie reports. The small cabinet under the paintings is a vintage record player.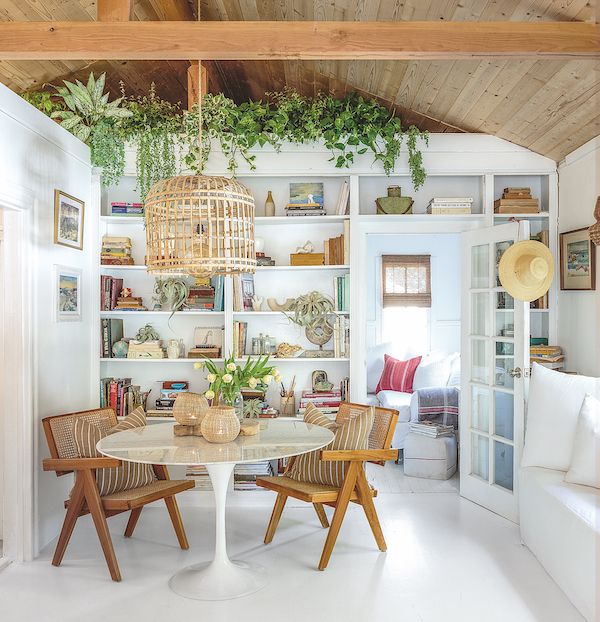 AIR APPARENT. The dining area is open to the living room. Despite the small size of the space, the first impressions are of light, loftiness, and simplicity thanks to the white walls and high wooden ceiling. The elegant Tulip table, inviting chairs, and organic accessories carry the decor theme from one space to the next, resulting in an uncluttered cohesiveness.
Good design involves showcasing what you love and eliminating what doesn't serve you.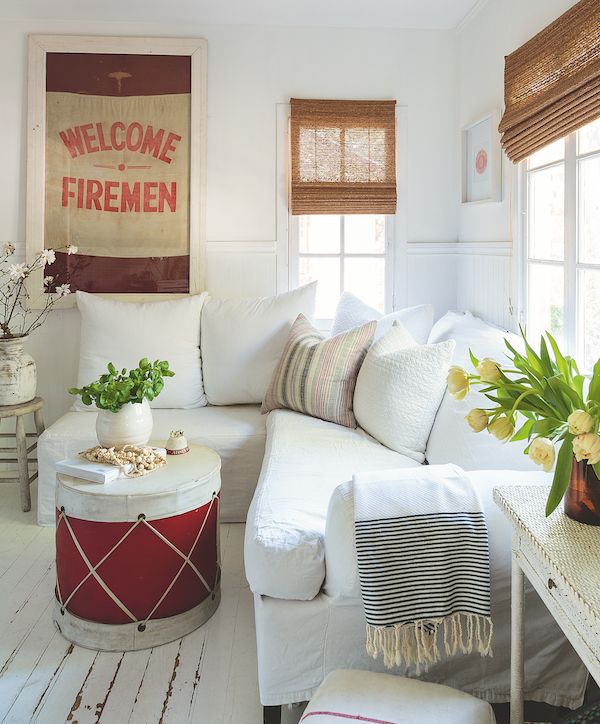 EASY DOES IT. "The den is our casual spot where we can kick back and relax with our three dogs," Lizzie says. "I like that the floor shows wear and tear and that the sofa's slipcovers have seen many washes." This room is also home to unique vintage pieces, such as the drum table, which is a prop from a Shirley Temple movie, the "Welcome Firemen" flag, and the old wicker table. Though compact, the kitchen offers all the necessary amenities and its high shelves provide ample storage. Teaming nostalgic items, such as the O'Keefe and Merritt stove, with newer items keeps the space classic yet current.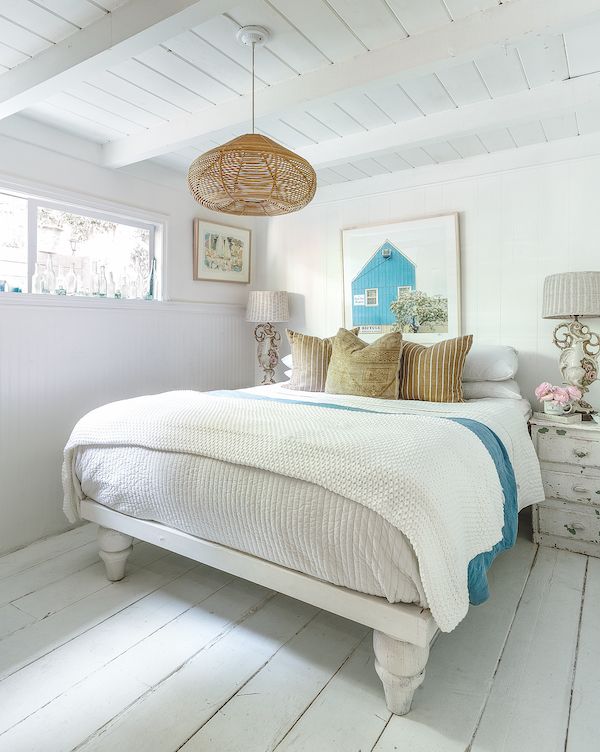 SIMPLY STATED. The whitewashed, wood-beamed ceiling, wide floor planks, and tongue-and-groove and beadboard walls of the bedroom are quintessential cottage features. "It's a serene, restful space with minimal furnishing," Lizzie notes. "Recycled pieces like the table lamps and nightstand honor the cottage's vernacular and are eco friendly, which are two important values for me." A few aqua and earthy accents add warmth to the crisp white scheme.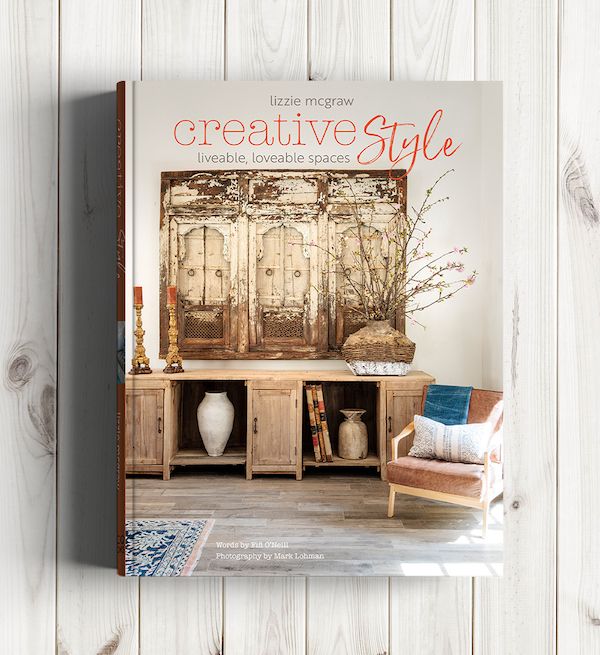 Creative Style: Liveable, Loveable Spaces by Lizzie McGraw is published by Ryland Peters & Small. You can visit her store Tumbleweed & Dandelion here and purchase the book here.
---
PHOTOS Mark Lohman
WORDS Fifi O'Neill
---
HOME PAGE
Join the newsletter to receive the latest updates in your inbox.