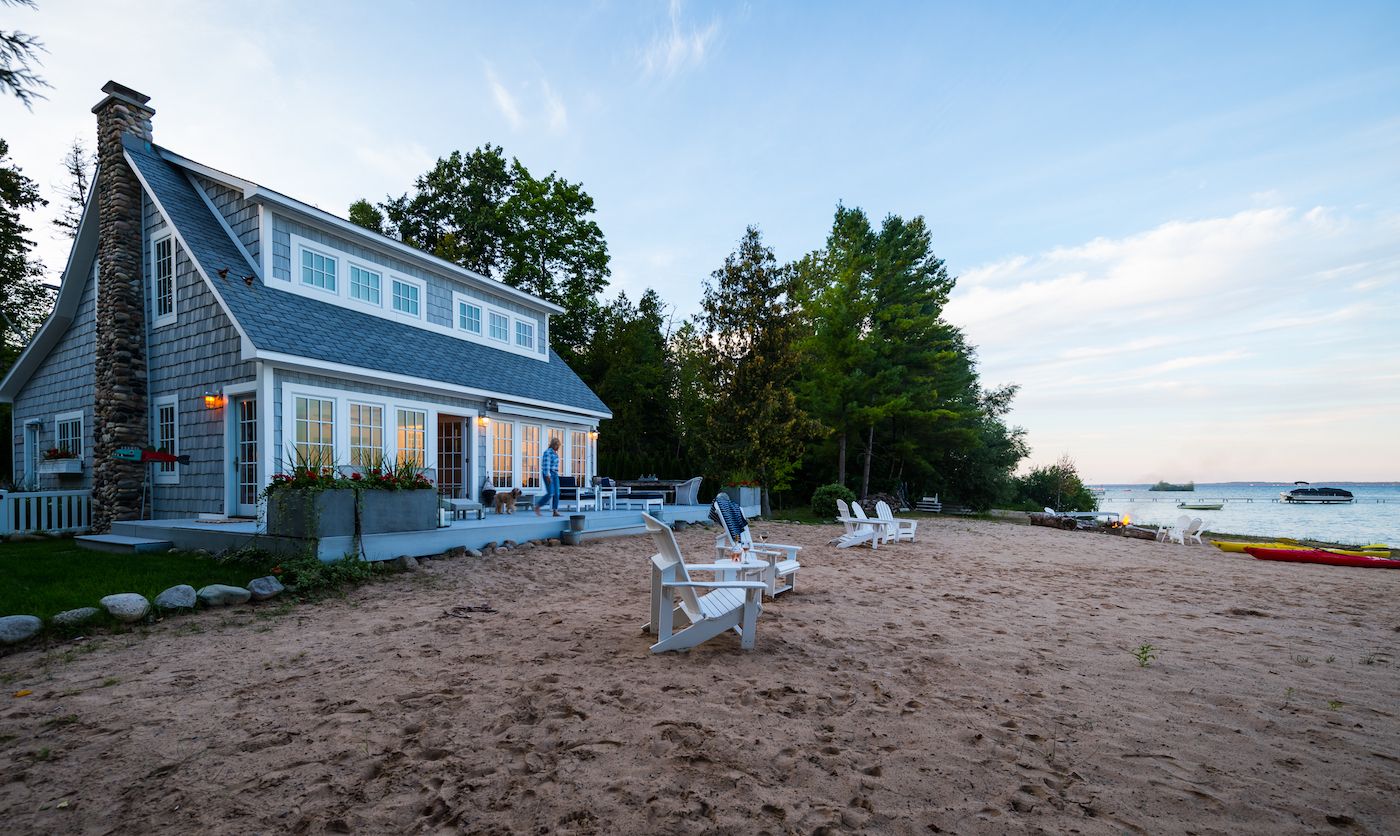 Great Lakes Expectations
A Sears kit home was the jumping-off point for this charming Lake Michigan cottage.
Time, neglect, and damp, windy air had practically done in the early-1900s Sears kit Cape Cod by the time Louise McDermott became its owner over a decade ago. But Louise hoped that with some TLC, parts of the Traverse City, Michigan, summer cottage—the stone hearth and chimney, the tongue-and-groove maple floors, the crank-out shutters—could be salvaged. Louise handed the keys to her contractor son, Christopher Fifarek, and then headed back to her full-time residence in Arizona. "With good luck and good weather, I thought I might be able to get in it the following summer," she says. When Louise returned two months later, only the stone fireplace remained. "For a second I thought I had turned down the wrong road!" she says. Almost everything had to go, unfortunately. Between the sagging roof, rotted floors, and practically nonexistent foundation, very little would pass the stringent local architectural codes. Thanks to photographs and carefully notated specs, Chris and his team were able to build a near replica of the original shingled cottage. By the time Louise got her hands on the lake house a year later, she was champing at the bit to move in her stockpile of Michigan-bred antiques: painted wood chests, woven chairs, blue-and-white quilts, crusty nautical fossils. A Grosse Pointe, Michigan, native, Louise was pumped about revisiting the down-to-earth vibe of her Midwest childhood, aiming to zigzag from the hard-edged look and industrial palette of her Phoenix home and business, Antiquities Warehouse. "These aren't the things I see in Arizona or California," Louise says. "This style was going to be something different for me." As she wheels the last of her things into her little cottage on the lake, she knows all the work was worthwhile. "When I get here, I just inhale the deepest breath of fresh air," she says. "I have deer, swans, our pontoon—it's my little piece of heaven."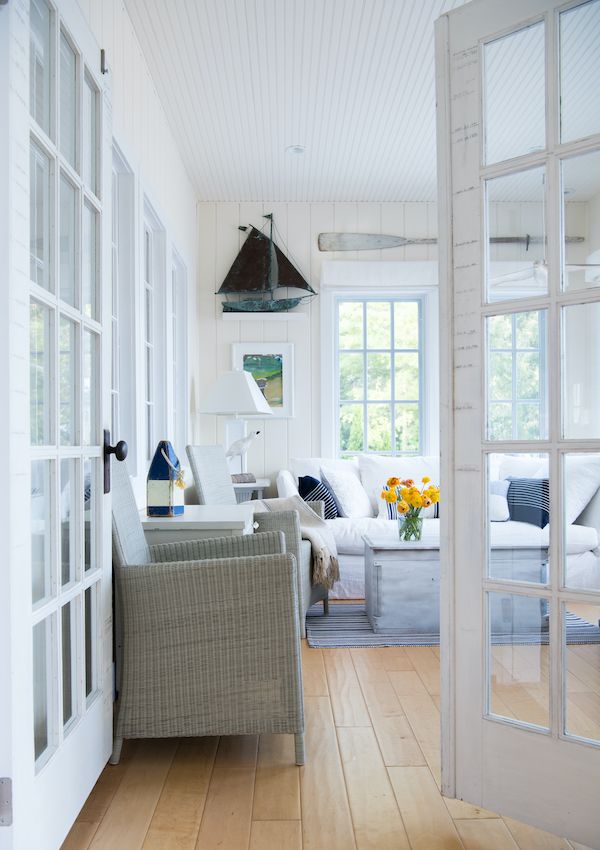 HOUSE OF PANE. The Cape Cod's original front doors were tempered and shellacked, and reused as the interior doorway to the enclosed porch. Louise stopped short of repainting them so as not to cover the handwritten height chart scribbled by previous owners. "It looks as though there could be two or three families represented on them," says Louise, who notes some of the dates go back to the 1910s. Real portholes and a boat gauge substitute for art on the sun porch. One of Louise's favorite arrangements is the chunky wood table and three iron French bistro chairs on one end of her enclosed front porch. "You don't find chairs like that anymore, especially three of them," Louise says. "They're substantial."
When I'm arranging, I put out a lot of stuff and then start taking away. I don't like things to look staged. —Louise McDermott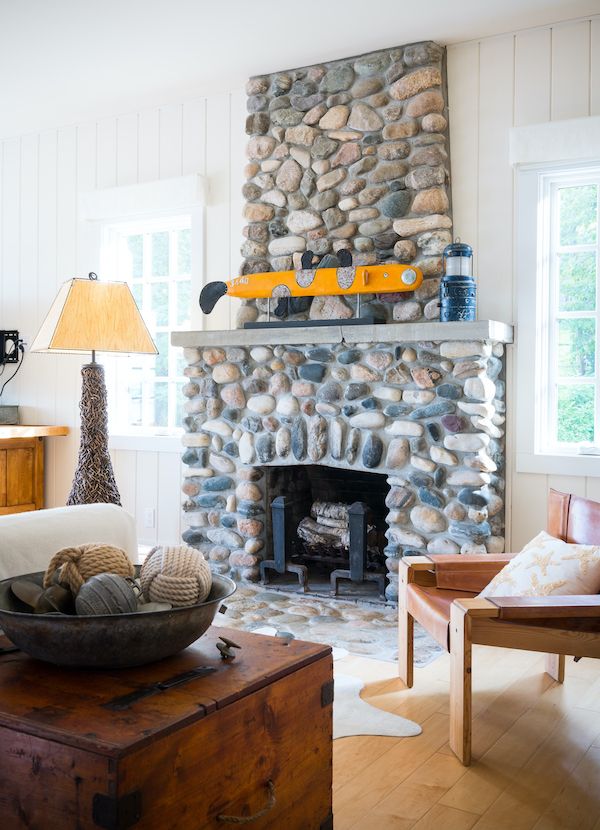 ROCK ON. The living room's stone fireplace was part of the Sears kit house. Its original mantel bears one scar that Louise refused to change. "The builders asked if I wanted it fixed. I said, 'Are you crazy? No.'"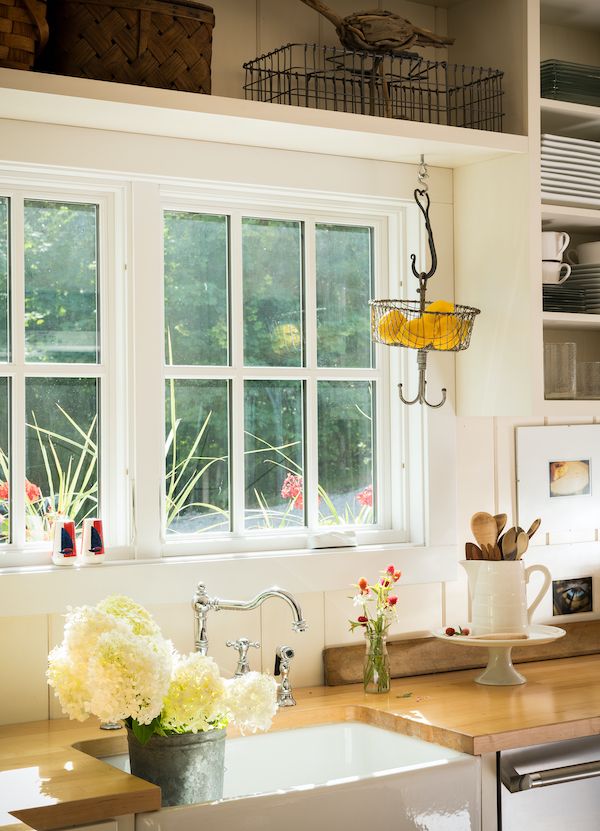 SUNNY-SIDE UP. "I love the look of real butcher block," says Louise, who used it on the counters in her vintage-inspired kitchen. The two-piece step-back cupboard had been patiently awaiting its new home years before Louise bought her beach cottage. She had her son Chris notch out a nook in the kitchen according to the cupboard's measurements. Louise also rebuilt the old birdhouse so it would fit atop the cupboard.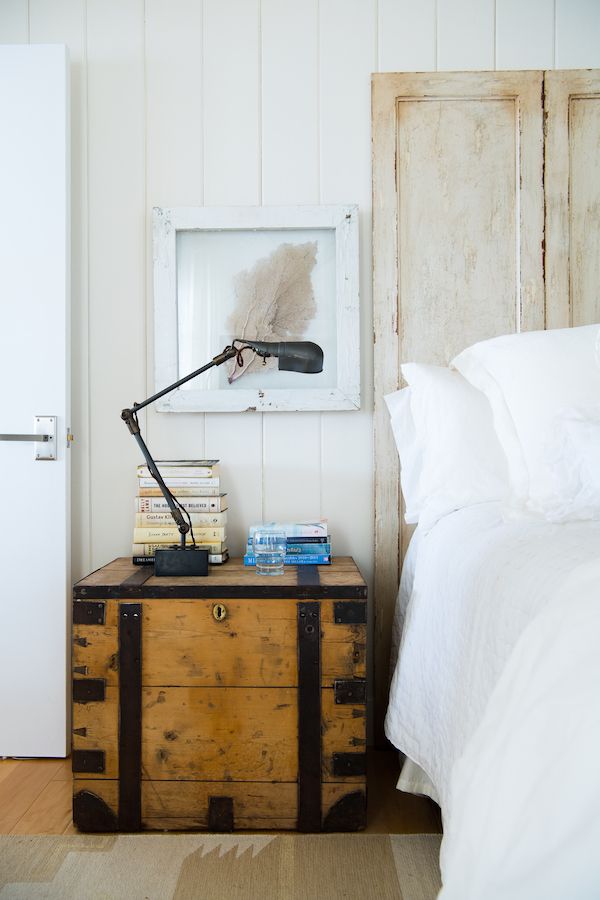 SERENITY NOW. Louise's bedroom gets the barefoot-and-breezy treatment with white linen bedding, a scrubby unfinished chest with its original handmade hinges, and a set of off-white shutters leaned against the wall as a headboard. The main bedroom, bath, and closet account for most of the 400 square feet gained in the renovation.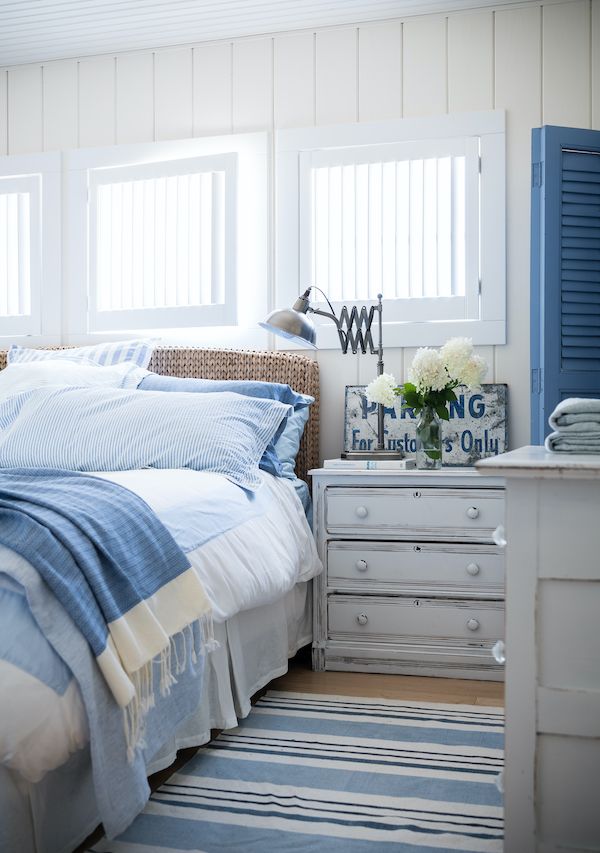 STAY AWHILE. The blue-and-white guest bedroom's vintage finds include a blanket from the Hotel Detroit, which was demolished decades ago. An old icebox serves as the vanity in the upstairs guest bathroom. An aluminum hand mold from an old latex glove factory perches on a shelf above the tub. Louise purchased 500 of the molds. She uses a handful as art and hooks in her own homes, and she'll sell the rest at her Phoenix shop, Antiquities Warehouse.
FURNISHED FOR FUN. Louse doesn't have grandchildren yet, but she had fun imagining them when furnishing this upstairs guest bedroom. She collected these game boards one at a time over a span of 15 years. Then, a pair of scrolled twin beds was a lucky find from a consignment shop in her hometown of Phoenix. "The owner told me they had been custom-made years ago for the home of the heiress-granddaughter of a Wisconsin manufacturing titan," Louise says. "They are so well made." The reds and yellows on hand-painted vintage toys are about as colorful as Louise gets in either of her two houses. Many of these belonged to her three sons when they were young. The Mills Bros. Circus poster is an original print, which Louise had framed decades ago for her sons' room.
SHORE THING. Louise's Traverse City, Michigan, lake house is a clone of the kit home that originally filled this site, with the exception of a new deck, slightly taller ceilings in the rear, and extra square footage in the main bedroom and kitchen.
People worry about tracking sand in when they visit. I say 'It's a beach house. You get a broom and you sweep it out.' —Louise McDermott
---
PHOTOS Bob Coscarelli
STYLING Melissa Elias
---
HOME PAGE
Join the newsletter to receive the latest updates in your inbox.