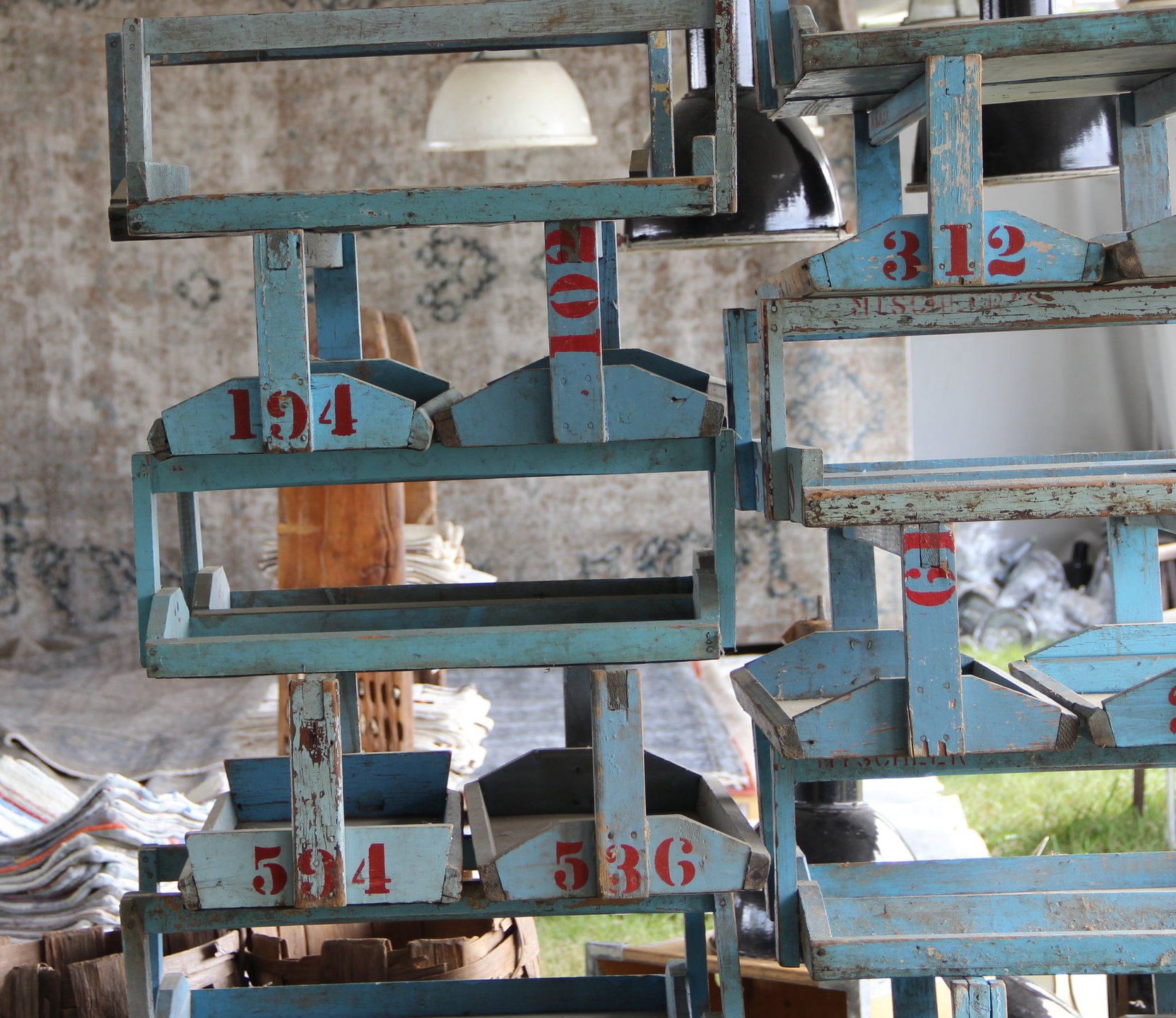 Shopping Brimfield
America's oldest outdoor antiques show and flea market, Brimfield, is a bucket-list destination for treasure-hunters. We get the inside scoop from one of them.
For most of the year, Brimfield, Massachussetts, is a charming little New England town with a population of around 3600, but for 6 days in May, July and September, that number swells to an estimated 50,000 as vendors, artisans and shoppers flock to America's oldest outdoor antiques show and flea market just outside of town. One now-annual visitor is designer Shawn Lang, who works his finds into the upstate New York home he shares with Kris Prepelica chronicled on The Farmhouse Project. He shares his tips on making the most of a visit to this monumental marketplace.

Q: What about Brimfield makes it one of your faves?
A: It's one of the largest and oldest antique flea markets in the country and it's also just a few hours' drive from our farmhouse. What we love most about this flea market is that it has something for everyone!
Q: How many years have you attended?
A: I've been going to Brimfield for over 10 years. I was introduced to Brimfield early on in my career working in the fashion and home industry. We would take a road trip up from the city for product design inspiration.

Q: What are the best tactics to navigate the buildings, fields and roadside tents?
A: They give you a map for a reason! It's best to go with a plan, unfortunately the different fields aren't really categorized so don't pass them up. I always navigate through a field from the outside perimeter than go in and out of all the middle aisles. Hit all the buildings on a separate day if you can.
Q: How much time would you recommend planning to spend?
A: It all depends on what you're looking for. If you're just passing through for some browsing, you can hit a lot on a whole day. I highly recommend going with a very detailed list of things you need. You can easily get sidetracked and overwhelmed without knowing what you came for. For a true shopping adventure, you should stay at least two days.
Q: Is there anything people should know about the schedule and times?
A: Get there as early as possible and if it's raining, don't let that stop you. I've gotten the best deals in the rain when everyone stayed home!

Q: Can you give pointers on how to load up purchases and transport to vehicles? A: The loading part seems a bit intimating but it's really pretty easy and everyone is super friendly and helpful. You can easily buy things and have them put on hold until you come back with your truck (don't forget to get their booth name, cell phone and where they're located). We tend to buy everything from one or two fields then bring the truck around to pick it all up. If you're mostly buying small pieces, I highly recommend bringing a folding cart or wagon that you can pile things in. As much as those blue ikea bags can hold, do not use them! I learned the hard way as they are very painful to carry on your shoulder with a bag full of antiques.
Q: What are your thoughts on pricing and tips to find the best deals?
A: This question gets tricky. Are prices higher than 10 years ago? Yes, of course, vintage and antique items are much more sought-after just as fashion trends. Can you still find deals? Absolutely! The larger dealers that have a more "curated" assortment will probably be a bit more expensive, but don't be afraid to make an offer. And sometimes if it's exactly what you're looking for, it's worth the investment. I love diving into the smaller dealer tables where you have to rummage through stuff. A lot of folks say to go towards the end of the week for better deals, and this is probably true, but then things have been very picked over. I always like to go the first few days!

Q: Are there any overnight accommodations you can recommend?
A: I really like renting a house on Airbnb; if you're lucky, you can score an incredible historic home to be inspired by.
Q: What are your favorite restaurants or food stands?
A: After a long day of walking around endlessly, I'm super content with the homemade French-fry stand and a big beer!

Q: Do you have a favorite dealer or two that are regulars?
A: Honestly, I usually forget their company name or lose their business card, but I never forget a face when I find them at the market. I do love to visit Justin from Vivant Vintage; he has the best vintage clothing and we share a very similar style. Maria from Whispers LTD has an incredible assortment of beautiful silverware. Carmen from Eurotiques always has beautiful early 19th-century furniture that I love. Upstate Rug Supply always has the best rugs to swoon over!
Q: What is on your hunting bucket list?
A: I need a few pieces of furniture for our great room since we are currently redoing it.

Q: What was the best deal you ever snagged at Brimfield?
A: It was an antique painting of an English soldier that I got for under $50!
Q: What was your most prized purchase at Brimfield?
A: I found a lot of our silhouettes from Brimfield and it's a collection of mine that I really love very much.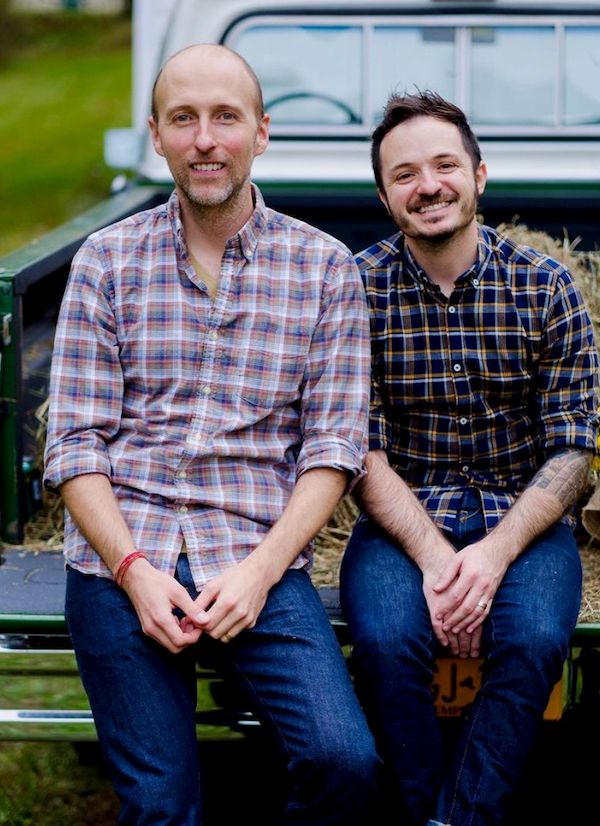 Trading taxis for pick-up trucks, NYC gents Kris Prepelica, left, and Shawn Lang decided to try life in the slow lane in upstate New York...but that doesn't mean they're not busy! Cruise through their IG account and you'll see what we mean: There, they share their gorgeous decorating, renovating and entertaining ideas, plus a few bonus moments from country life (we're looking at you, Darth Chickens). And if you're more of an armchair DIYer, you can shop the market of handcrafted goods on their website.
---
COVER PHOTO Brimfield Flea Finder
---
RESOURCES Check out Brimfield Antique Flea Market for more info and visit Brimfield Flea Finder to help you decide where to go!
---
HOME PAGE
Join the newsletter to receive the latest updates in your inbox.