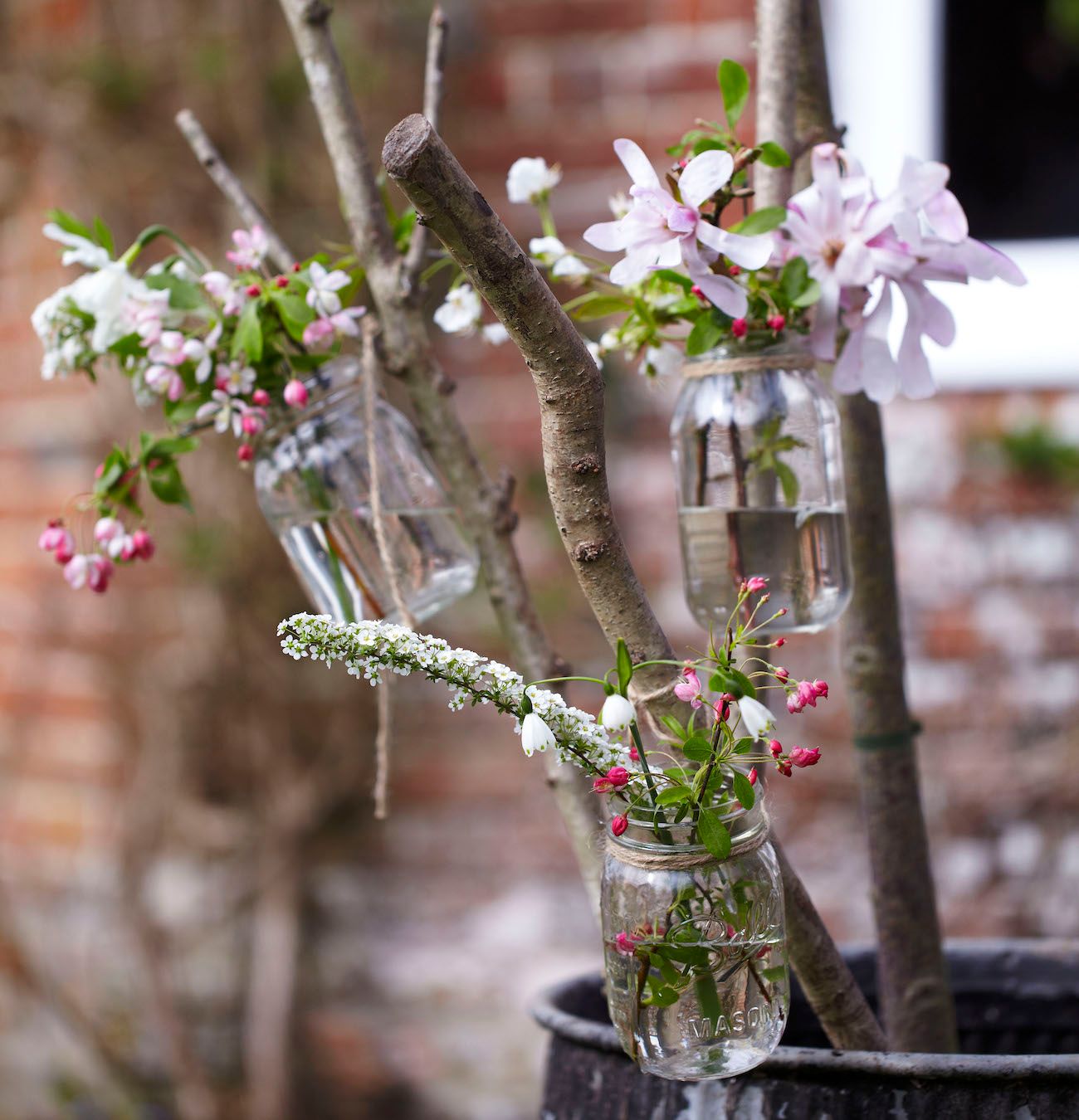 Spring Forward
It's three cheers to the perennial season of hope with these easy decorating and entertaining ideas.
Spring is finally springing, and that's reason to celebrate! Turn your sunroom, screened porch, dining room or even patio into a pretty space to enjoy or possibly even entertain. If you have an abundance of blossoms in your garden, cut a few branches—they don't last long so make the most of them and create beautiful displays. Here are eight blossom-inspired ways to bring a room into bloom.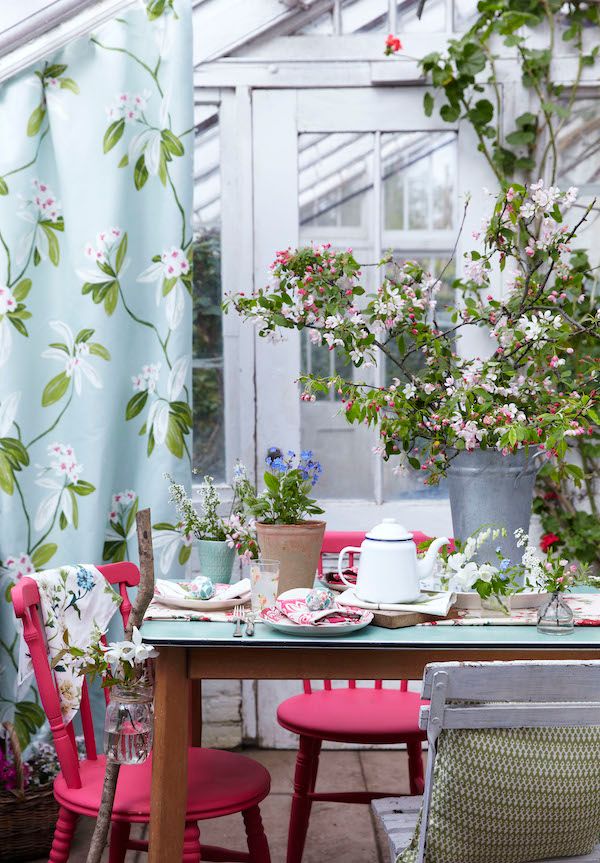 IN THE PINK. The beautiful peachy pink and scarlet hues of blossom flowers and buds found on a crab apple tree create a picture-perfect palette. Cherry and other blossoms could just as easily fit the bill (and if you don't have them in your yard, picking up a bunch at a local nursery or farmer's market is a worthy indulgence). Here, the florets' deep pink was the inspiration for a fresh coat of paint on some vintage chairs and features as a through-line hue among tabletop accessories.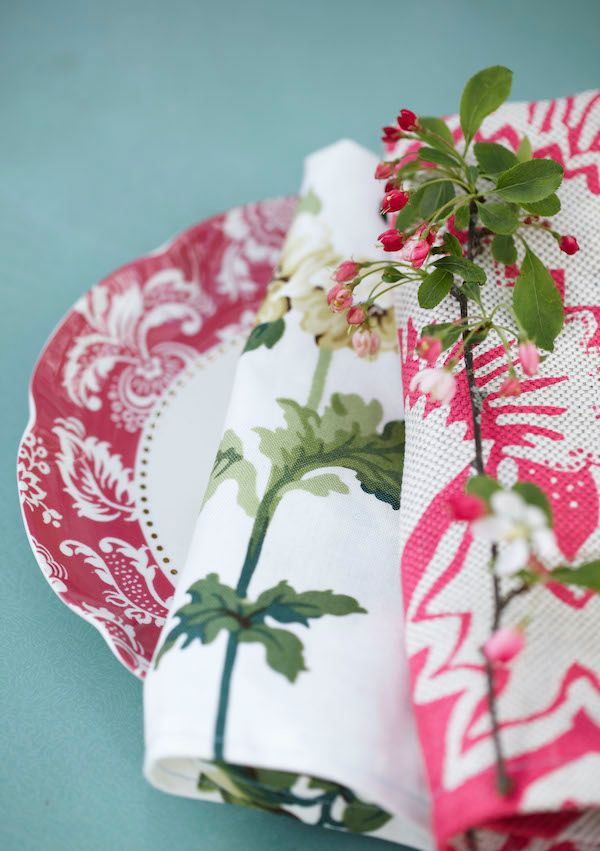 EASY DOES IT. If you can't find any pretty napkins to match your color theme, why not make your own? Using fabric scissors, cut your fabric into your desired size for a napkin (roughly 16" square is ample) adding a half-inch border all around. Use a hot iron to press down the half-inch border that will create a finished edge. Slip some iron-on fusible web into the crease you've just made and press again to secure, making sure not to iron any fusible web directly.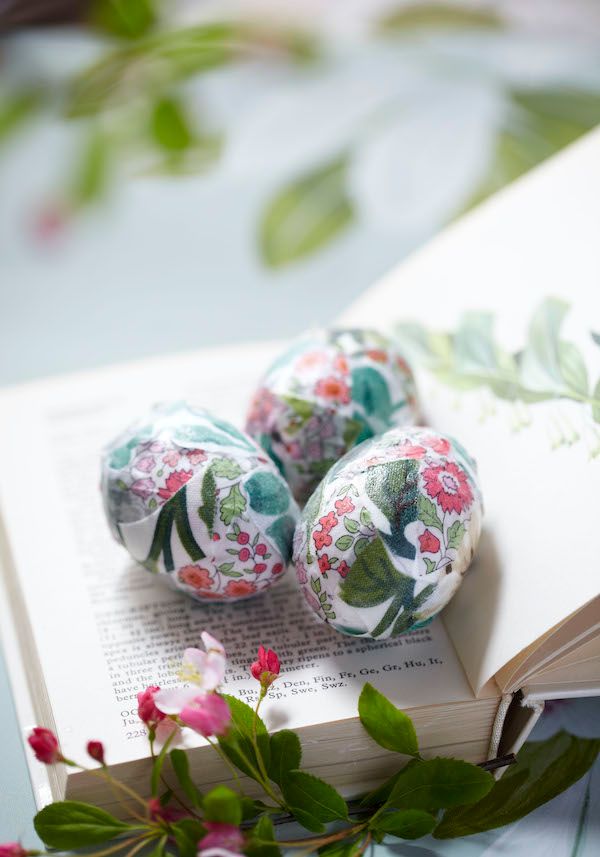 SCRAPPY IDEA. This can be a fun project to craft with kids. Simply cut out little pieces of patterned fabrics and use them to cover a wooden or plastic egg form (or the real thing, if you want to take the time to blow out the insides and clean them) using a paint brush and slightly watered-down white glue. Leave on a cooling rack to dry, and then paint on another coat of the water-glue mixture to seal everything in place.
CRACKING GOOD TIME. You make these fun favors to add a little spark to any occasion. To create, cut out 6 x 12-inch rectangles from pretty patterned paper. For each cracker, start with a rectangle with pattern facing down and lay the cardboard tube from a roll of toilet paper so it's centered on the long edge of one side. Secure it there with double-sided tape. Thread a cracker snap (available on Amazon or Etsy) through the tube and tape it down to one side of the paper. Roll the paper around the tube—the paper should slightly overlap—and tuck in more double-sided tape to secure paper. Next slightly pinch and twist the paper at one end of the tube, tie a ribbon around it to hold in place, and then fill the tube with treats, jokes or whatever you like. Finish off the other end by pinching paper and tying off with ribbon.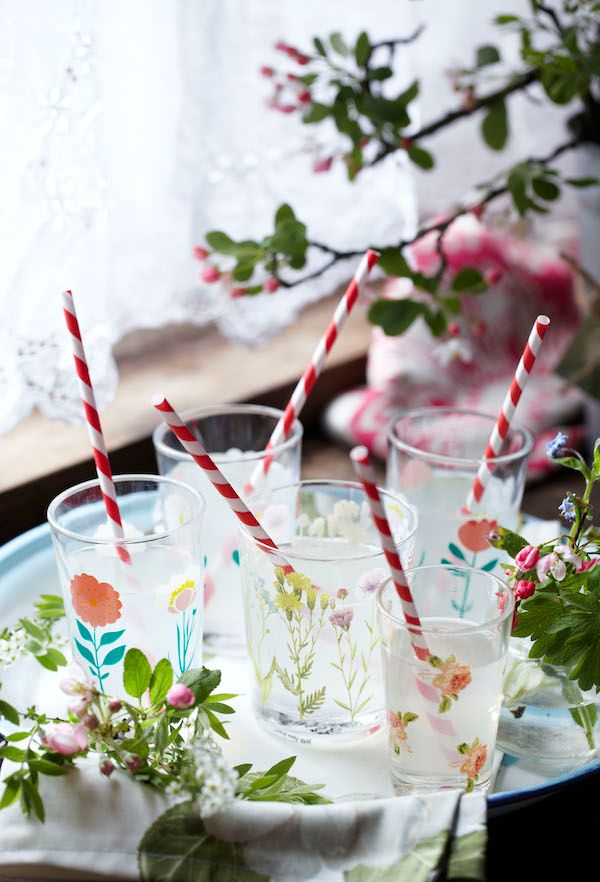 HIT REFRESH. Serve homemade mint lemonade in floral-patterned glasses displayed on a pretty tray decorated with blossom sprigs. If you don't have similar glassware, dress up drinks with floral-patterned straws. To make mint lemonade, first mix 1 cup of sugar with 1 cup of water. Bring to a boil, stir to ensure sugar is dissolved, remove from heat and toss in a cup of fresh spearmint. Cover and let cool for half an hour. Meanwhile, juice 5-6 lemons (enough to give you a cup of juice) and pour juice into a large pitcher. Add simple syrup and then enough water to fill the pitcher. Stir and chill.
GOOD ENOUGH TO EAT. Give store-bought muffins or cookies with a little sugar—in the form of candied flowers and a little icing drizzle. You'll need to hit a fancy market to find edible flowers, then gently dip them in a frothy egg white mixture, then in sugar, shaking off excess, and then let them dry overnight on wax paper. For a glace icing, simply place a cup of confectioners sugar in a bowl and add a teaspoon of warm water. Stir, adding more drops of water or something flavored, like lemon juice, until you get a consistency that you can drizzle over baked goods. Use immediately.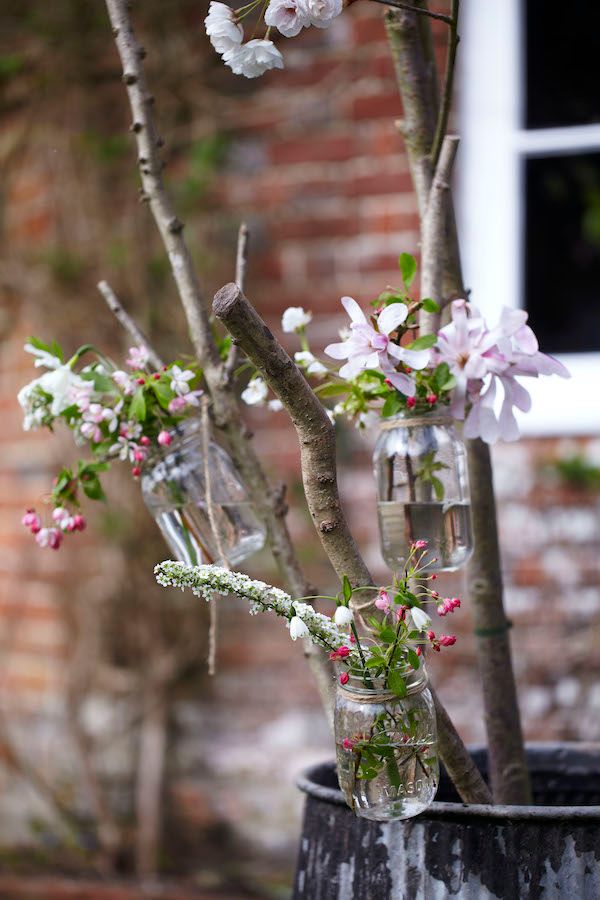 BRANCHING OUT. Enjoy blossoms right where you want them with this easy idea: Tie a loop with string around the neck of a recycled glass bottle or jam jar and secure tightly with a double knot, and then thread through the loop another length of string that you can use to tie around a sturdy stick or branch. Arrange the sticks in a large planter or tub. Once all the bottles/jars are securely fixed, fill with water and add in a couple of spring blossom stems into each one. Don't have a vessel large enough to hold sticks? Try sinking them into the ground along a path edge instead.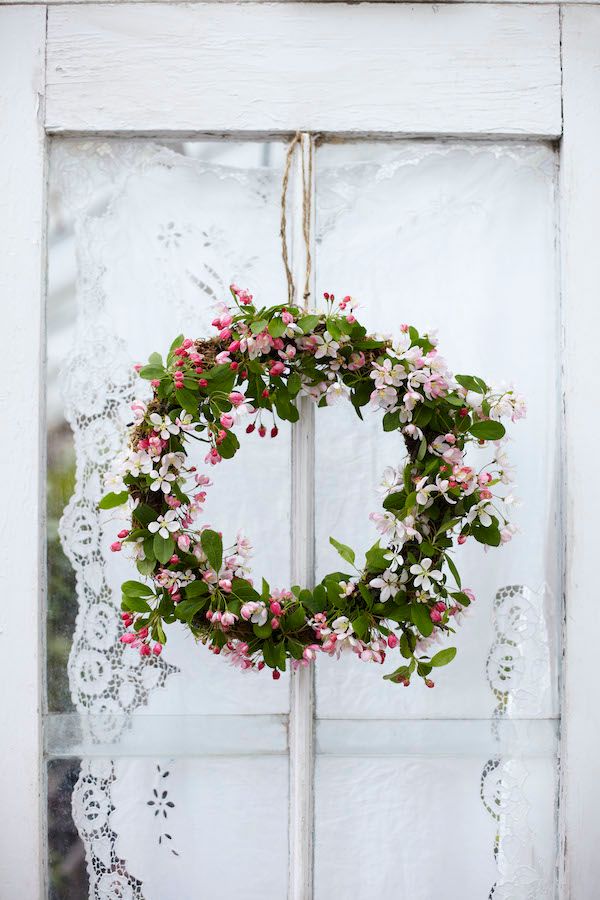 WHAT GOES AROUND. Decorate a glass door or window with a handmade wreath. Use a wire wreath frame and pack it with fresh moss (available from a florist or garden center). Secure the moss in place by binding florist wire around it and the frame. Run the frame under water to wet the moss. Next cut little sprigs of blossom and poke the stalks under the wire used to secure the moss. Continue around the frame until all the moss is covered in flowers. When the blossoms fade, remove them but keep the moss ring, which can be dampened and reused as a base for other spring or summer flowers.
---
PHOTOS Sussie Bell/Narratives
WORDS & STYLING Selina Lake/Narratives
---
HOME PAGE
Join the newsletter to receive the latest updates in your inbox.