Thrift Club
The Makerista is her name and thrifting is her (joinable) game.
Actually, her name is Gwen Hefner, and her love affair with vintage shopping started back in high school. "I was in plays and musicals and we had go to a vintage clothing store to get costumes for most of the productions," she explains. "I was enchanted with the retro clothing at that time and starting going there to buy regular clothes. Then the owner told me I could also start looking at thrift stores and I was hooked!" From then on, she spent many weekends in high school and college searching for beautiful skirts, slip dresses, and costume jewelry. Her findings dovetailed naturally with the creative "maker" instinct she'd had and followed since she was a tot. But it wasn't until she became a stay-at-home mom to three that she started thrifting for home goods…and hasn't looked back. "For me, it's all about personal style. You can't make a home feel so lived in and loved in a rather short amount of time buying new," she says.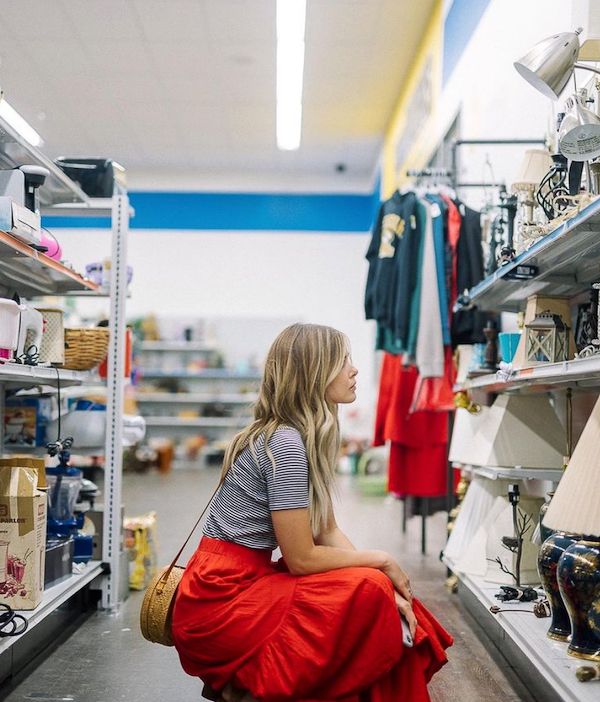 HOME THRIFTER IN TRAINING
"With a small budget and more time on my hands, I took to the home decor aisles and was so thrilled with what I could find for so little money that brought big impact and joy to my home!" says Gwen, who estimates that her home is now about 75% thrifted. "It's just so hard to find the kind of quality and uniqueness you can get secondhand for the price of new," she says. Decorating this way does require some dedication, but Gwen's up for the challenge. "I love thrift stores, flea markets, antique malls, online shopping, estate sales, garage sales...you name it, I've shopped it and will pump the breaks for them all," says this savvy shopper.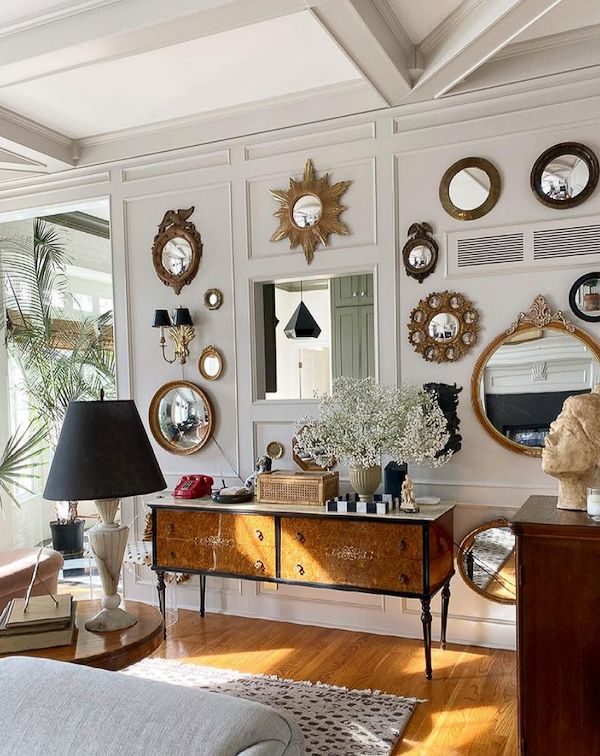 WIN SOME, LOSE SOME
You'd never guess that almost everything in this picture is thrifted, but it's not exactly an accident. "I scoured the whole Kansas City metro area to find the perfect piece for this spot," says Gwen, who points to how patience and persistence can pay off. But she's had some misses, too. "I'll never forget the first one that really hurt—a midcentury dresser with these fabulous, large wooden handles that ran the length of the drawers. It was $35 at a Salvation Army and at that time that was more than my month's budget for 'fun money,'" she laments. Good thrifting karma stepped back in, though: In the basement of an antiques mall, she pulled out what she believed to be a Chapman (Manufacturing Company) lamp with no price tag. She offered $4. "They sell around $500 in fair condition," says Gwen. Score!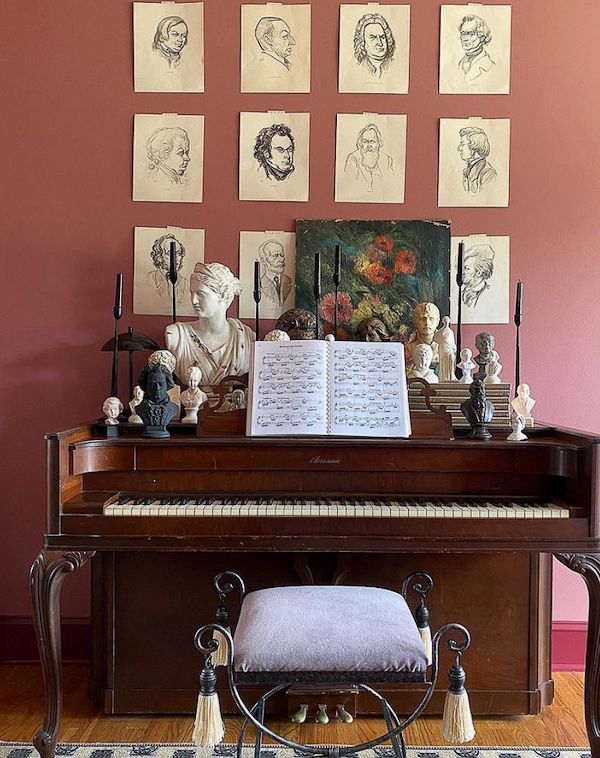 THRIFT GOES MAINSTREAM
As people want to be more mindful of what they're consuming, they also want to save money while buying well-made, special pieces, Gwen says, adding that thrifting offers all of that and has accordingly lost any stigma related to secondhand shopping. "On the flip side," she says, "it's definitely become more commercial and as the demand has risen, so have the prices." Gwen will shop anywhere, but she really loves to support her local shops and stores that she knows have a give-back side. "I even started volunteering at one so I could be see how a thrift store can impact a community in a really incredible way," she says. "Aside from where the money is going, I think it's important that these stores aren't raising their prices to a point where they are no longer manageable for the people they intended to serve." Still, there's wiggle room: When she spotted the unique floral oil painting now sitting on her piano, the price was too high for comfort. "I used one of my go-to negotiating phrases, 'Could you do any better on the price?' and scored it for less than I would have offered!" she says.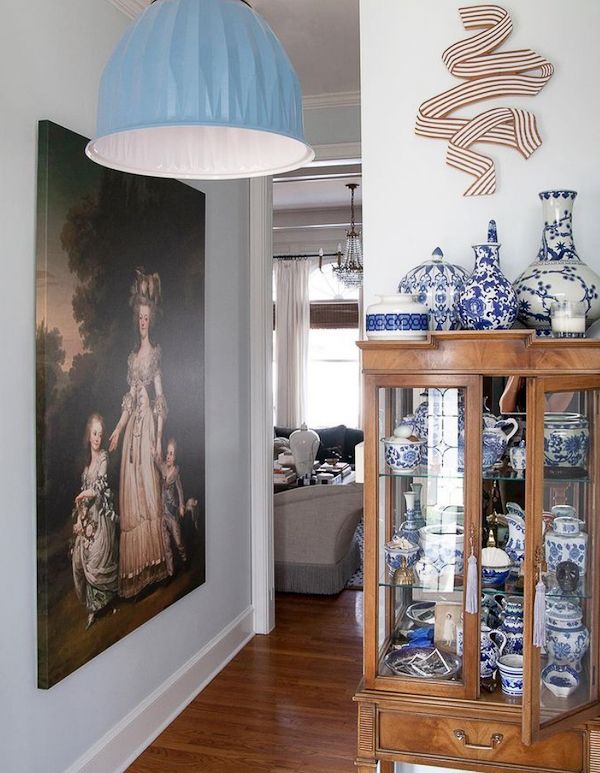 WHAT'S HOT AND HOW TO MAKE IT YOURS
Being to attuned to the market, Gwen says that brass, blue-and-white (which usually means pottery and other ceramics, like those showcased in her clutter-controlling curio, above), and rattan have been holding strong the last few years, but glass and more cottage/folk country pieces are trending. When it comes to tracking down the good stuff, Gwen offers these five tips:
1. Start at the furniture. It's often toward the back and there's nothing worse than wandering around and finally getting to the furniture just in time to see someone else grab a wonderful piece, in great condition, that you could have had…if you'd only started at the furniture.
2. Wear clothing that makes try-ons easy. You never know what dressing room situations are going to be like, so wear clothes that are easy to slip something on over (like leggings) or under (dresses).  
3. Sign up! Most stores have rewards programs or email lists at this point. Sign up for those perks to get discounts and know about the sales they have going on.
4. Just put it in the cart. If you see something and are waffling on it, put it in your cart anyway. You can always put it back at the end, but this way you can think about it without worrying that someone else has scooped it up while you were wondering whether to go back for it.
5.  Request the wrapping. If something breaks, you can't go back for another, so as much as you or I want to be the easy customer, it pays to ask them to wrap things up (or be sure to have your own bags/wrapping/blankets in the car) to get things home safely.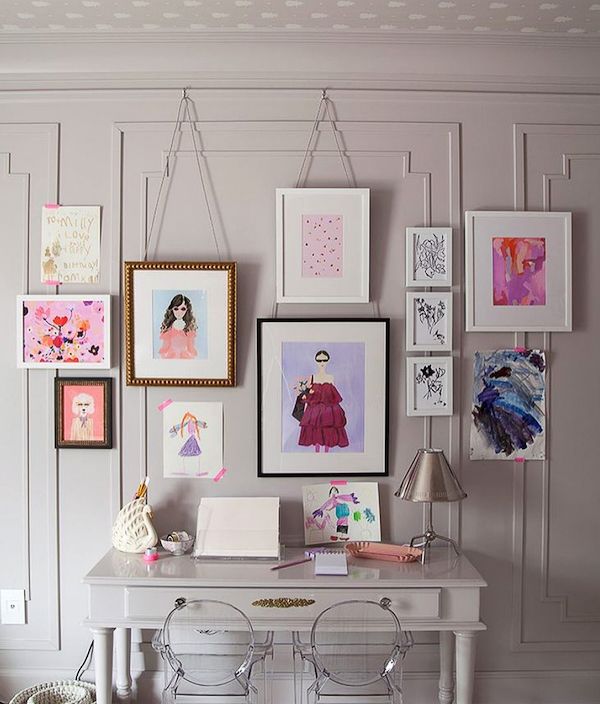 JOIN THE CLUB
Stylish and whimsical, this artsy area was assembled for Gwen's young daughters, but it's designed to be flexible as they grow (ditto the thrifted console that her dad cut down to make a perfect desk). An area like this represents the culmination of skills—trials, errors and triumphs—that Gwen has accumulated. But it's exactly those successes and failures that inspired her to start Thrift Club. "I think there is such strength in numbers," she says, "and The Makerista's Thrift Club is [now] a wonderful community of over 3,000 members who range from brand-new thrifters to seasoned dealers, auctioneers, and appraisers." Those members share expertise and tips on finding treasures all over the world. "And I take you along with me as I treasure hunt and give you my best tips and tricks for finding those diamonds in the rough," says Gwen, who notes that members tell her that the $35 membership fee comes right back to them in thanks to the helpful info they glean in the first few weeks. If you want to up your thrifting game, here's where you can join.
---
PHOTOS Courtesy of Gwen Hefner
---
RESOURCES Be sure to follow Gwen on Instagram @themakerista.
---
HOME PAGE
Join the newsletter to receive the latest updates in your inbox.