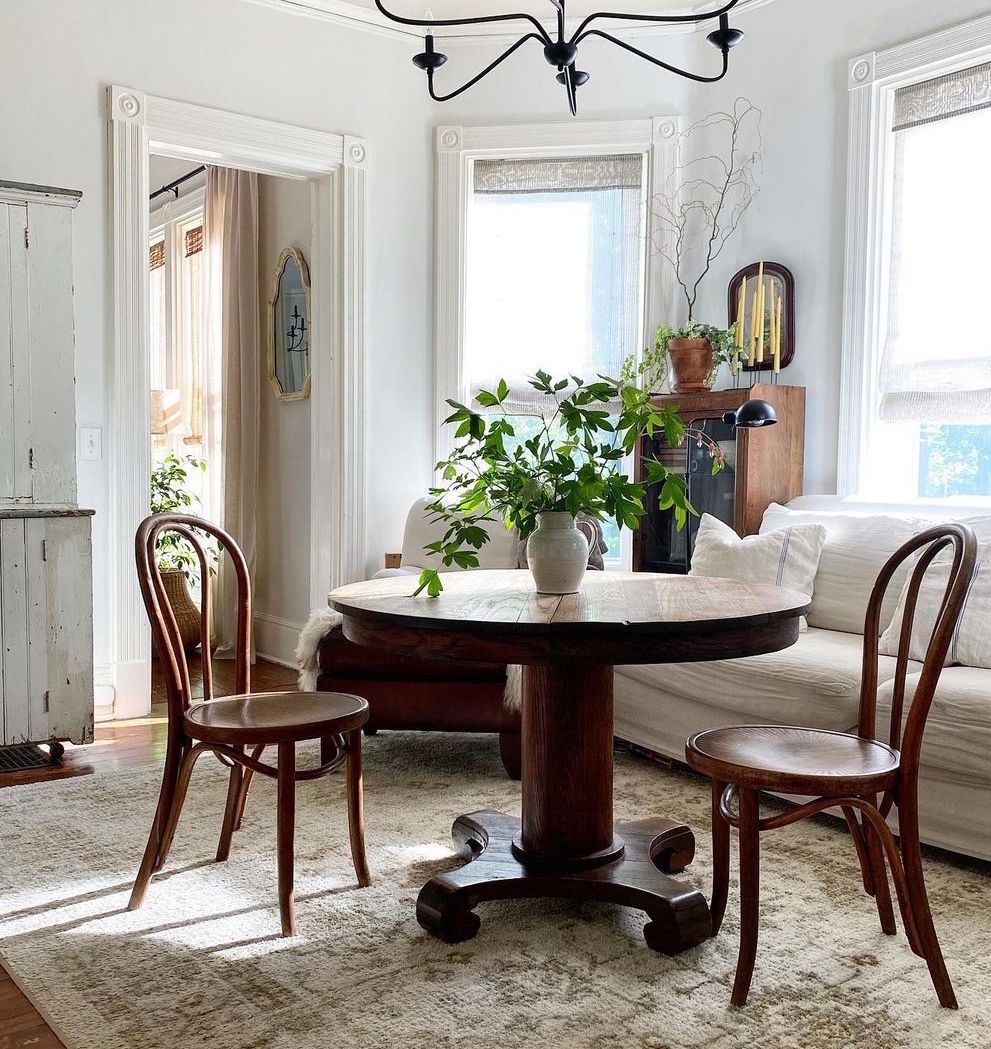 Worn and Well-Loved
The owner of an 1850s home settles into the future by selecting just the right pieces from the past.
When you hear the word "patina," from now on, you may just picture Tina Veatch's house. Outfitted with worn-in, cherished finds, it's no wonder that more than 68,000 followers flock to her Instagram page to see how she styles her western New York abode. Built in 1850, it now showcases collected, vintage, lived-in, and cozy pieces, as Tina describes them. The antiques aficionado, who doesn't shy away from "piles of junk" to sift through, simply hunts for vintage treasures that catch her eye. "I love that they are unique and can't be found just by going to a big store," she says. "They have a story of their own and have had a purpose throughout the years."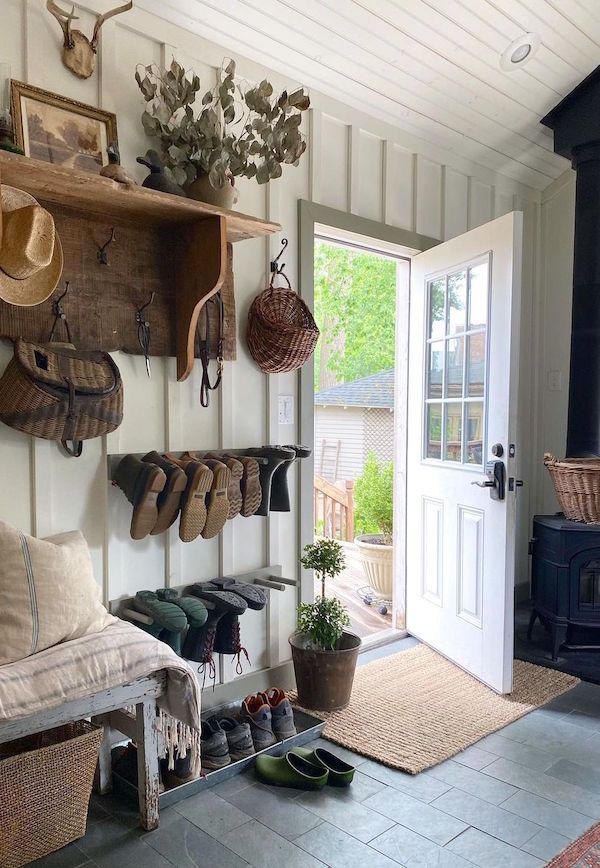 Inviting Function
In her entry, Tina displays her uncanny ability to marry functionality with aesthetic appeal. "Having clever ways of storing everyday items really helps keep a space beautiful and functional at the same time," she says. "Baskets are perfect to hide accessories, dog supplies, and odds and ends. And of course, vintage items atop a giant coat rack made of old barn wood adds charm and personality."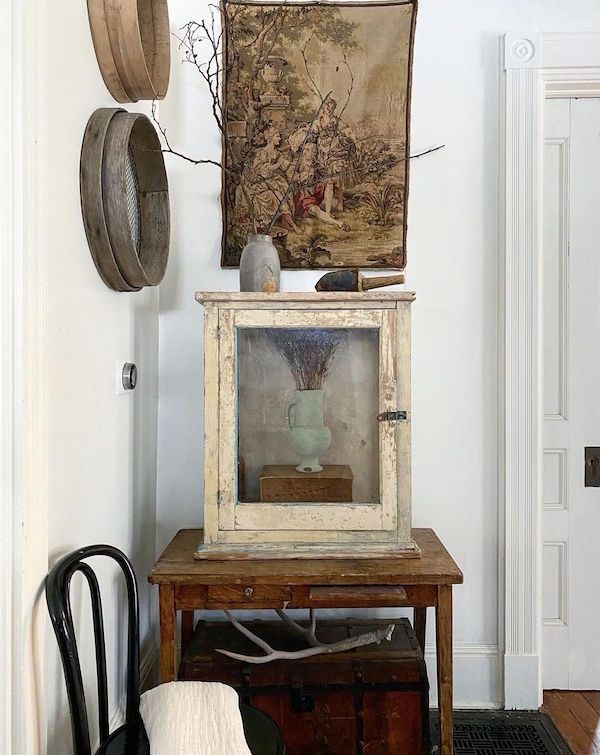 Bygone Vignettes
Well-curated vignettes abound in this home. While she doesn't necessarily set out to create specific scenes, Tina simply believes that setting out a few beautiful vintage items together lets them speak for themselves, especially when you add in natural elements like sticks and florals.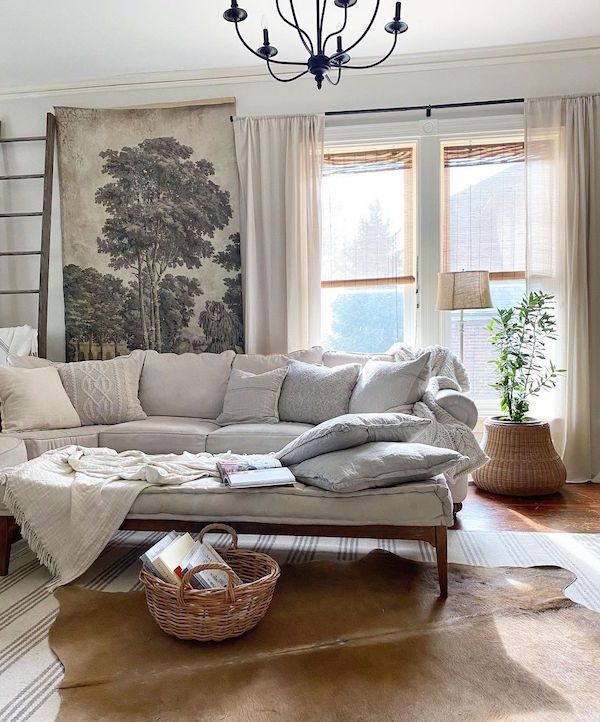 Style Evolution
Tina admits that when she first started decorating, she fell victim to "trying to look like what was trending." As time went on, she slowly began hunting for and collecting vintage items that she loved, replacing store-bought items along the way. Over time, she ended up with a unique home full of things that really mean something to her.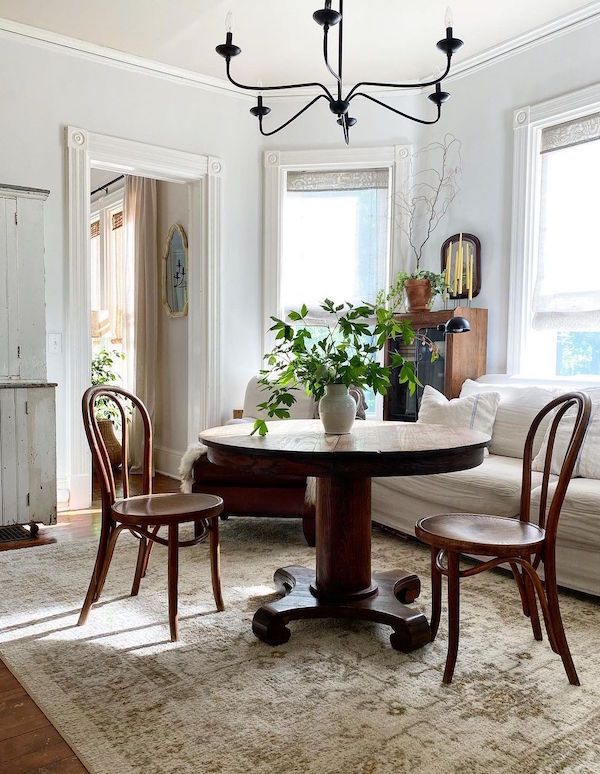 Adding Extra to Ordinary
Tina has a particular talent for turning plain-Jane, everyday pieces, like vintage cutting boards and old whisk brooms, into extraordinary décor moments in her home. She shares her top tips for achieving this look:
1. Add character and texture. Vintage items add so much character to a space. Baskets, books, plants, and pottery add texture and personality.
2. Mix things up. Things don't have to match and fit into any one style. A combination of styles is wonderful, as is mixing old and new. Using different wood tones and metals make it interesting.
3. Make it cozy. I just want my family, friends, and visitors to walk in and feel at home. Cozy pillows, linen, blankets, and rugs are the perfect things to make it feel that way. Also, I love the glow of lamps as opposed to just using overhead lighting.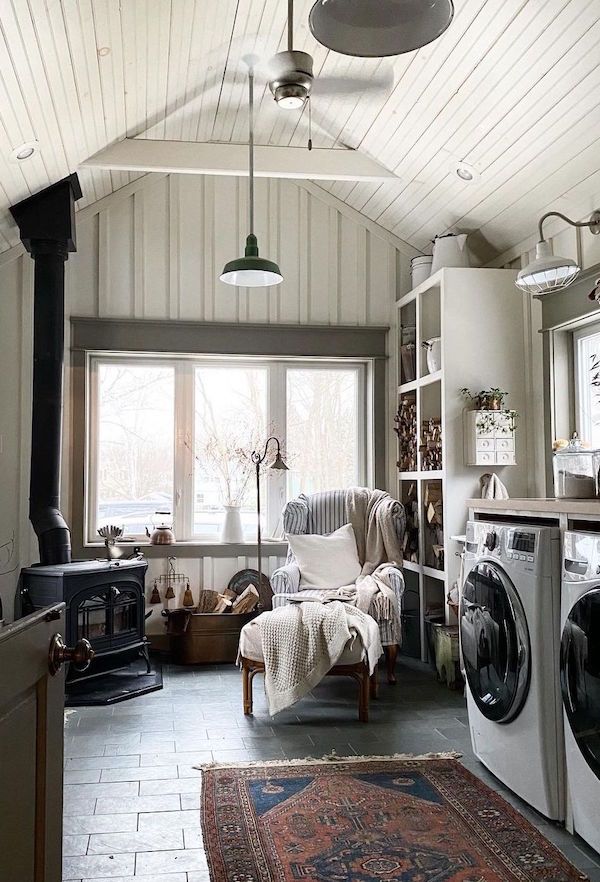 Love and Renovations
When she isn't sewing, baking, or learning to paint with oils, Tina is likely working on her 171-year-old home that was, at one time, broken up into apartments before being converted back to a single-family home. The original tall ceilings, pocket doors, old hardware, and even a dumbwaiter door and butler bell remain. Tina has freshened things up by converting a three-season room into a laundry/mudroom, updating the entire kitchen, and renovating all three bathrooms, among other projects. She reflects on these tweaks, nothing that social media can sometimes make it seem like these things happen overnight. "But," she notes, "It takes time, patience, searching, and waiting for the right things."
---
PHOTOS Courtesy of Tina Veatch
WORDS Shelby Deering
---
HOME PAGE
Join the newsletter to receive the latest updates in your inbox.