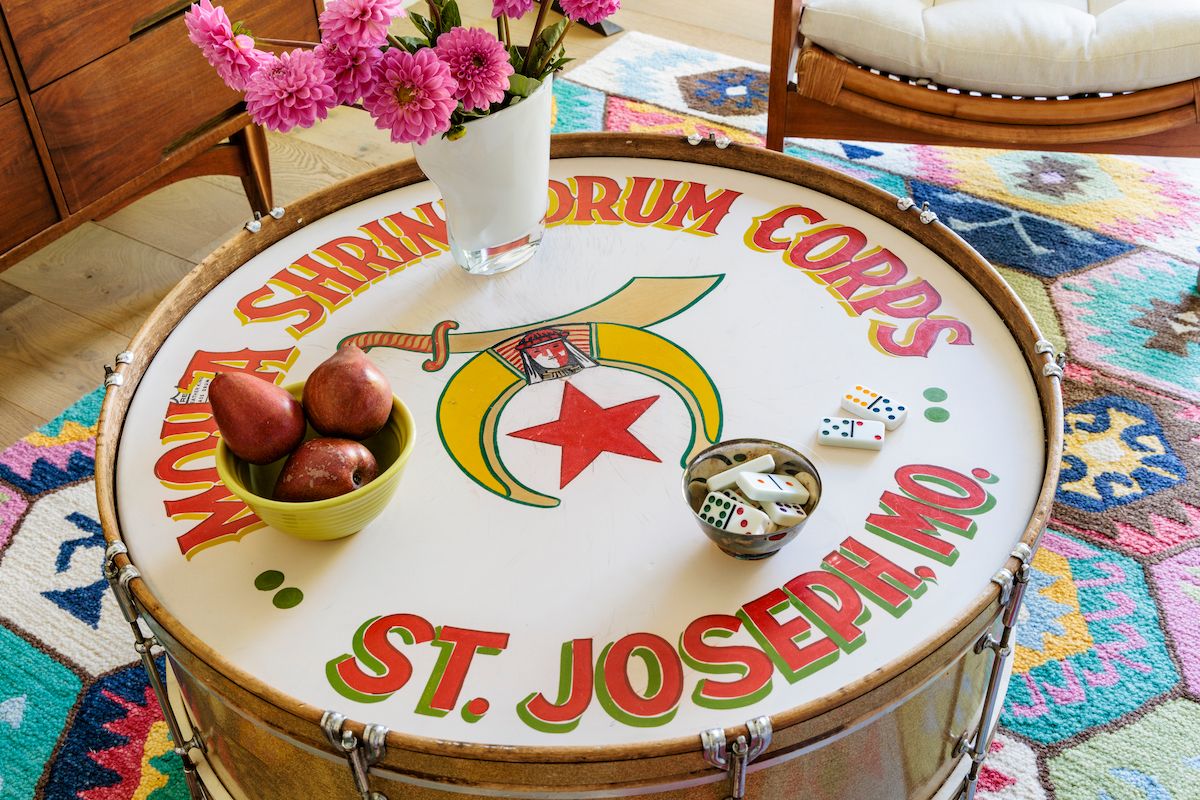 Lived-In Style
When Ki Nassauer's daughter and son-in-law invited her to come and live in the guesthouse of their newly purchased home, the timing couldn't have been more serendipitous.
"It was during the pandemic, and I was thrilled to 'bubble' with them and my grandchildren," Ki says. Though she had been used to living in much larger homes than the 660-square-foot guest cottage, the opportunity of being close to her grandkids far outweighed the challenges of downsizing from a spacious three-bedroom apartment. "My homes have fluctuated in size ever since I moved to Los Angeles more than 10 years ago. All had benefits that were not necessarily dictated by size: a porch, a quiet neighborhood, a crafting room with storage, interesting architectural details and other varied perks. But none could have competed with the obvious advantage attached to this little place," Ki says. Her living quarters' new and perfect condition was another bonus. "That was a first for me," says Ki, who had spent her life painting, patching, fixing and remodeling all the homes she had ever lived in. "I never knew what move-in ready meant!"
"I imagined a colorful and eclectic space where my grandchildren would be free to craft, play and cozy up. A space where I could continue to work while enjoying my personal treasures in a curated environment. A space that oozed a lived-in style."
Ki has crafted a career from scouring antiques shops, flea markets, salvage yards and the occasional street-side pile of castoffs for materials to create inventive furniture and accessories for national magazines. The one big drawback of downsizing was having to part with many favorite pieces that she had collected over time. "I sold or donated what I absolutely didn't love and have few regrets. " Letting go was a difficult process, but it gave Ki the opportunity to create a cohesive, uncluttered interior and allow some of her remaining favorite art and vintage items a spot to shine, though as she explains, "Wall space was super tricky, since my walls have either windows, doors or cabinets." Looking around the rooms, it is clear that Ki had a plan right from the beginning.
Ki says that her love of the authentic and the unique began early on. "My mom had a more modern, minimalist style. Growing up, I learned to appreciate the restful moments she created in our homes. Too much stuff makes me anxious. I am most comfortable in a 'less is more' environment."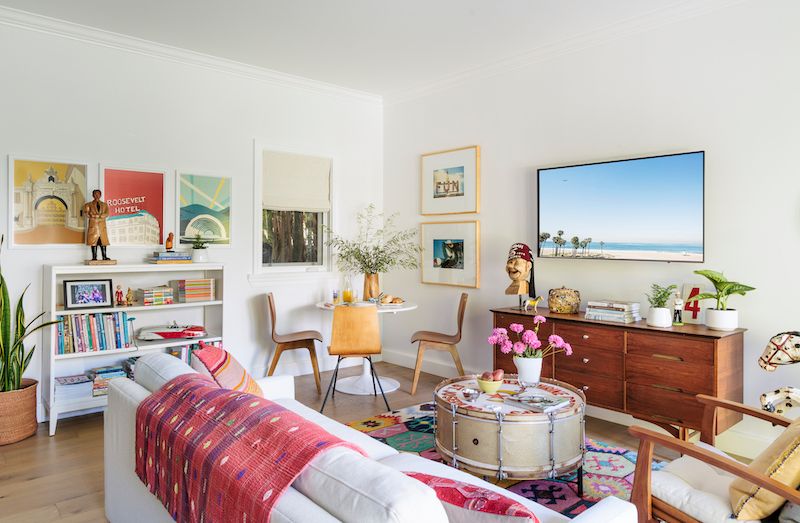 The key to Ki's cheerful living area is clean-lined furniture with crisp, textural fabrics and simple silhouettes. The space is enlivened by rainbow-hued accessories and nostalgic details such as the iconic city posters and a 1960s-style pedestal table.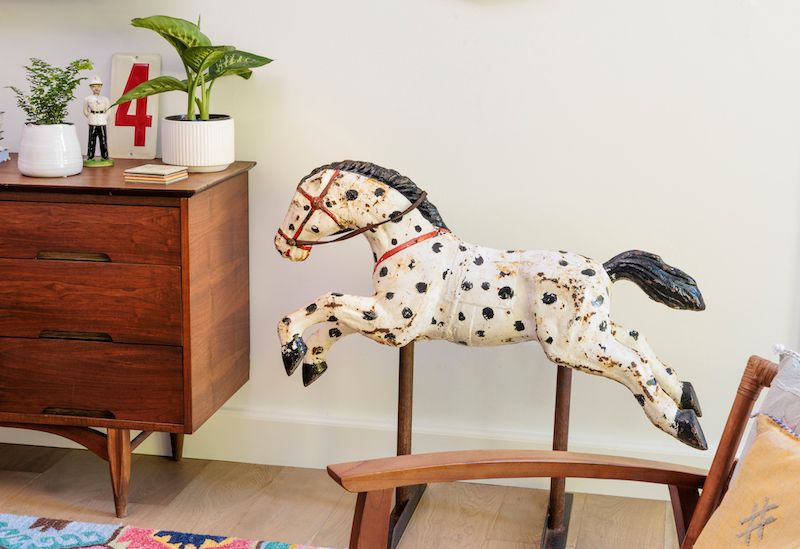 Among her most-loved possessions, Ki cites her black-and-white spotted vintage metal carousel horse, which was a birthday present from her family. "After I mentioned that I had fallen in love with it at a flea market but didn't feel I could spend the money on such an expensive personal item, they gifted me with that beauty," she recalls. The top of the bookcase is one of the few surfaces that lends itself to showing off rotating displays of books and one-of-a-kind items. Ki uses this whimsical carved wooden bird to hold cards, photos or outgoing mail.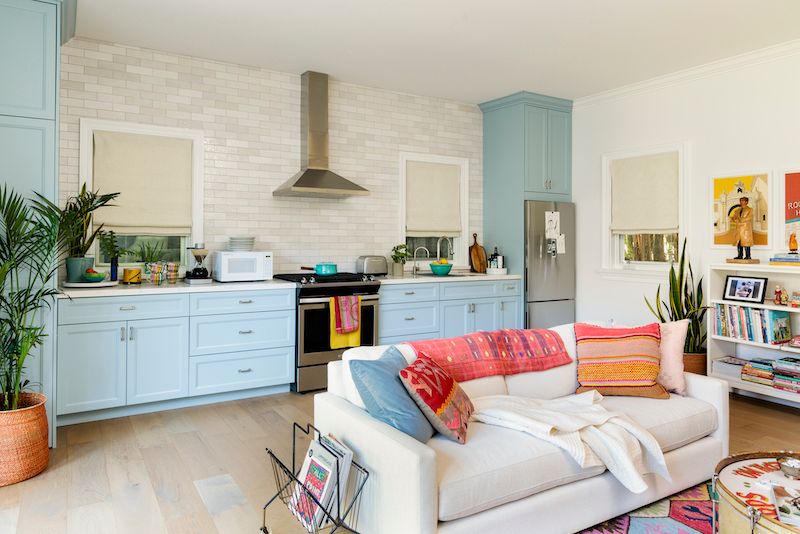 The open-plan space incorporates living and dining areas and a streamlined kitchen. Ki had to let go of two favorite leather chairs to accommodate the sofa so that she can snuggle up with her grandchildren.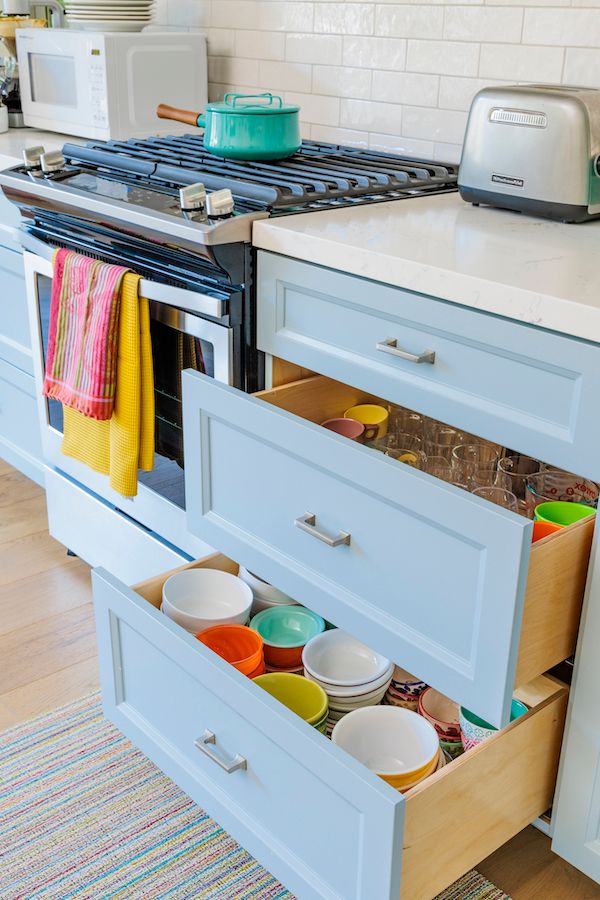 Deep easy-glide drawers offer storage for dishes, bowls, pots, pans and pantry items. With limited counter space Ki still makes room for handmade pottery and greenery.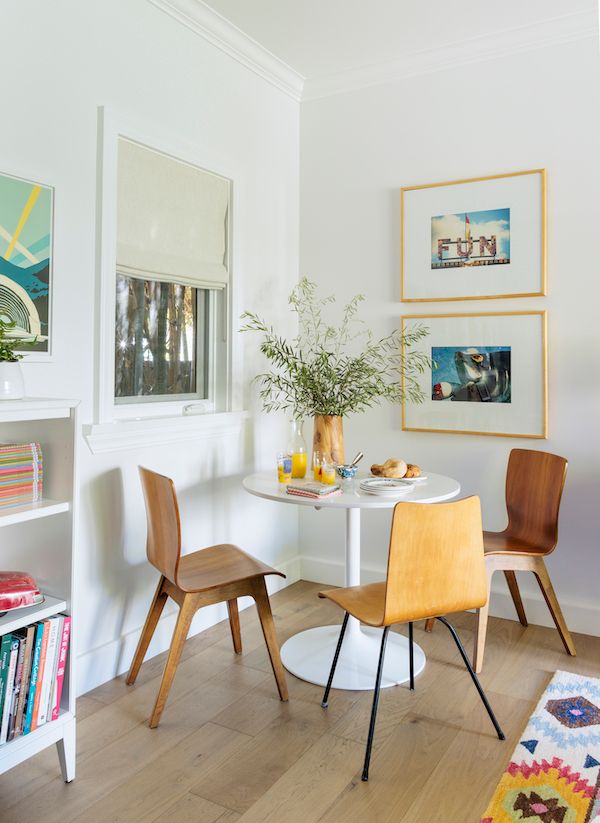 While space was precious, it made sense to carve out room for
an eating area while making use of a redundant corner. Ki's vintage advertising glassware is put to daily use as she is determined to utilize, not just display, her collections.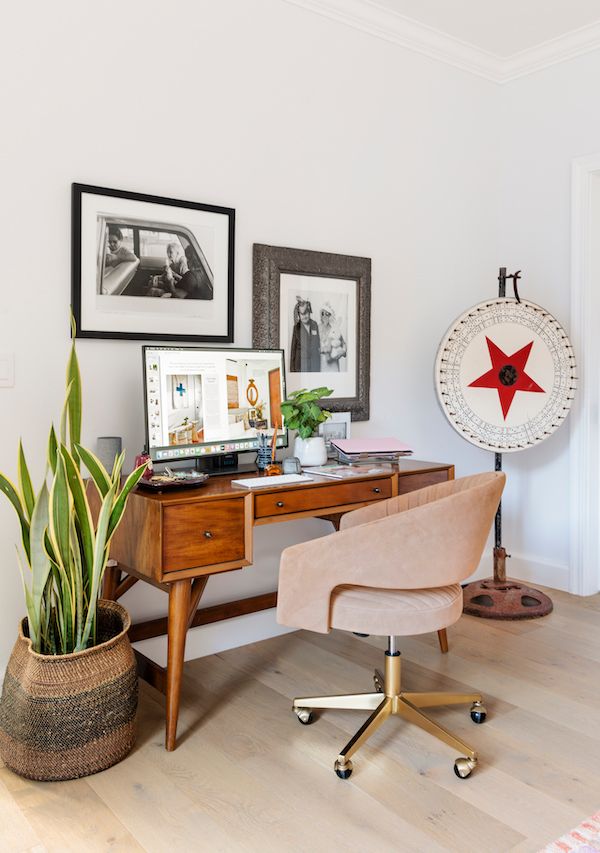 An old game wheel adds to the decor while providing hours of fun and learning for Ki's grandchildren. Vintage photographs reflect moments in time and provide a not-too-serious backdrop for Ki's workday.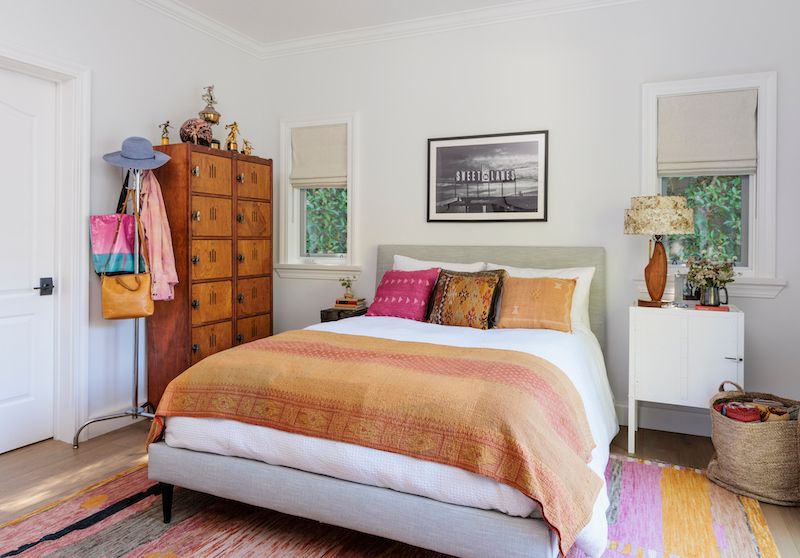 In the bedroom, past and current furnishings unite to establish a sense of harmony. The tall wooden vintage locker holds linens, toiletries and cleaning supplies while featuring Ki's bowling trophy collection.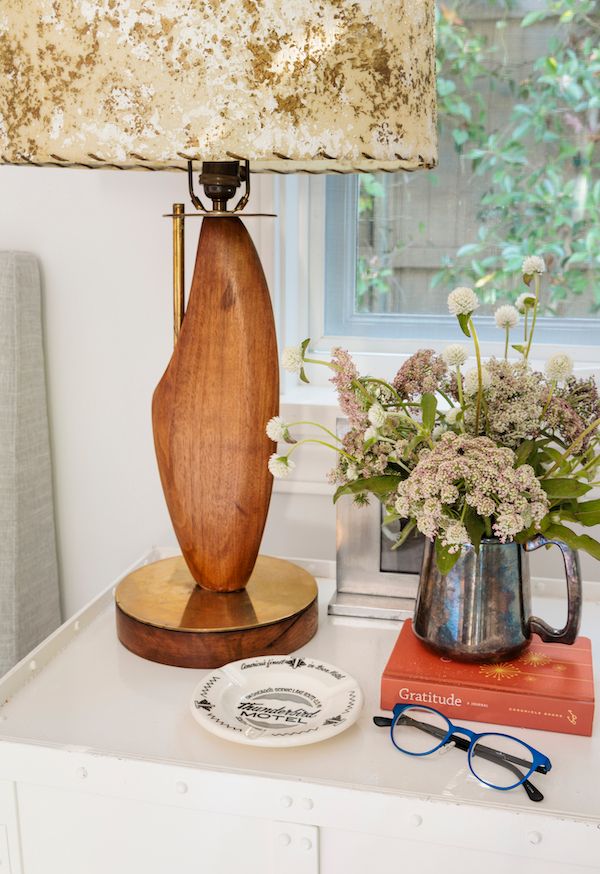 A reclaimed metal cabinet has been sandblasted and powder-coated and reincarnated as a nightstand/ bedside table. When asked about her favorite storage piece, she quickly answers: "Hands down, the spectacular Brunswick wooden bowling locker. When you run across a 'never before seen' vintage item at a flea market, you know you need to snag it quickly." She also describes the locker as her biggest indulgence. "I never regretted the purchase, even though it was more than I would typically spend on one cabinet. It is the best storage unit I could wish for!"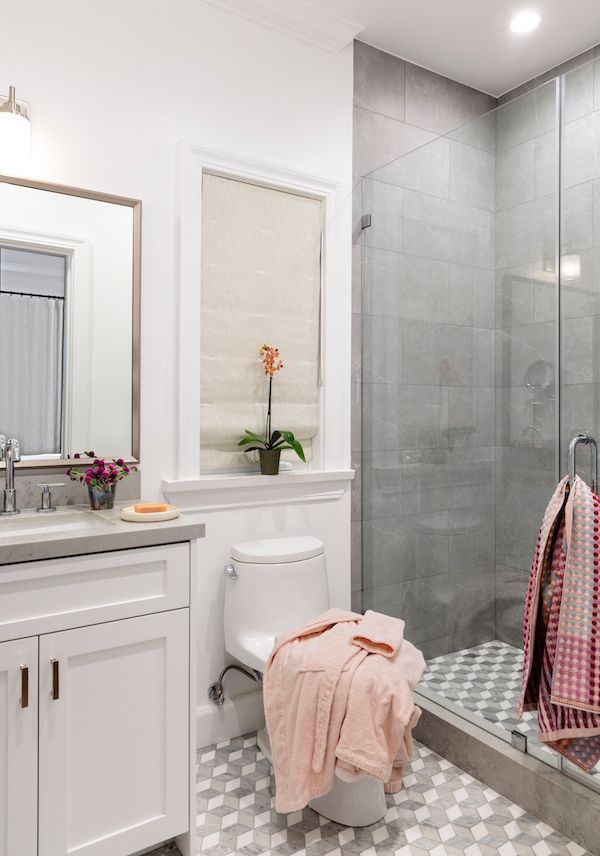 A neutral backdrop and fittings keep the bathroom up to date. The three-dimensional geometric pattern of the floor tiles adds a graphic punch, while the gray wall tiles in the shower draw the eye upward. The overall effect is chic yet modern. A framed photograph by David Parise of vintage Barbie® and Ken® dolls in a beach setting inspires a trip down memory lane. The industrial stool makes a fitting spot for a stack of whimsical, colorful polka-dot towels. Even the bathroom doesn't escape Ki's fondness for time-honored touches. A tarnished silver cup becomes a vase in which to display vibrant blooms and a vintage dish makes room for lotion and other small sundries.
---
Tour Ki's former home here.
---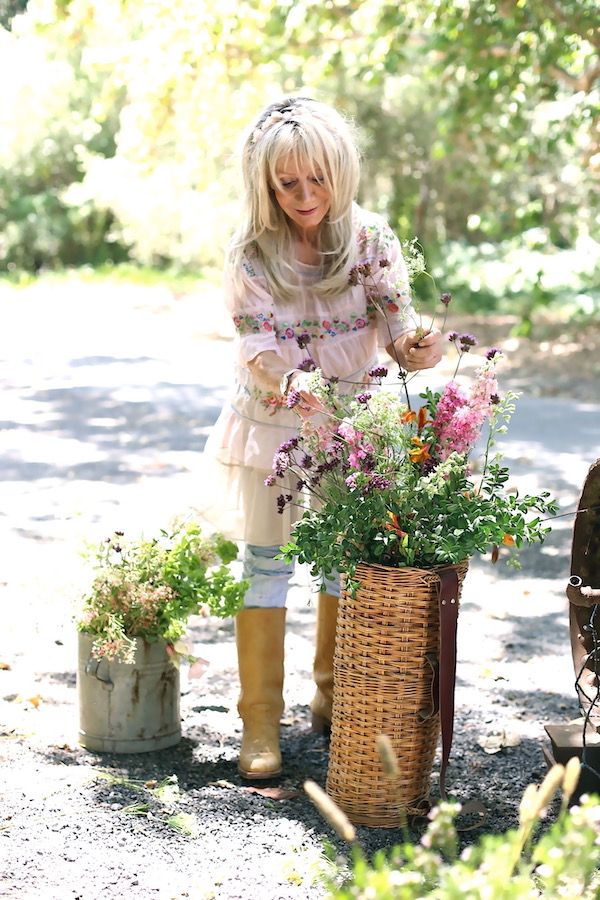 Small Spaces, Big Appeal published by @rylandpetersandsmall captures the luxury of less by showcasing dwellings across a spectrum of styles and locations, all under 1,200 square feet. Each of these unique and imaginative homes offers inspiring interiors, ingenious solutions for compact quarters and stories of happy homeowners, including Ki, who have downsized their living space. Whatever your preferred look—nostalgic or modern, country, coastal or urban, minimalist or maximalist—it can be achieved within a small footprint.
---
PHOTOS Mark Lohman
WORDS Fifi O'Neill
---
RESOURCES Learn more about Fifi O'Neill here. Follow her on Instagram here and purchase her book, here.
---
Join the newsletter to receive the latest updates in your inbox.