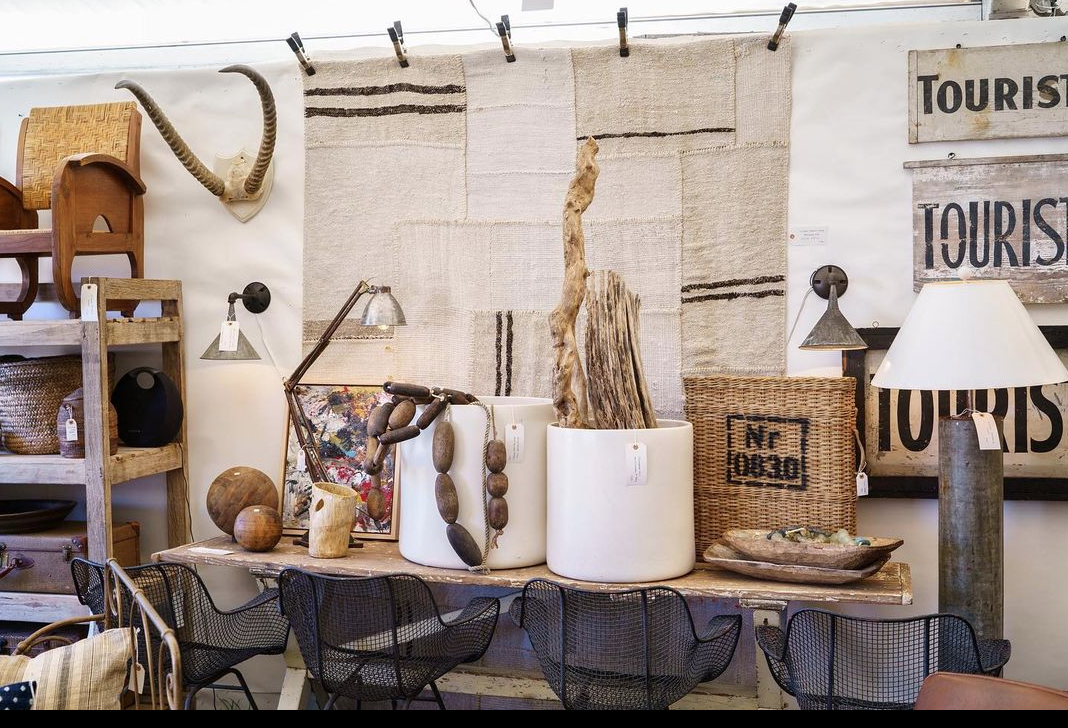 Shopping Round Top
You've plotted and planned, and now it's time to hunt and gather—and snack!—on your Round Top adventure.
As we discussed last week, there are vintage shows, and then there are vintage shows. We followed up with Linda Bradford, co-owner of Junk Style Design, on how to shop like you mean it once you make it to the Round Top, Texas, area.

Recap Q: What do you need to know about the shopping schedule?
A: Most fields in the Warrenton area open at the beginning of Antiques Week and stay open until the last day. Check out antiqueweekend.com for accurate dates. The large, curated shows, such as Marburger Farm, are open the last five days of Antiques Week. Plan on having a leisurely breakfast before you start shopping. Most vendors don't open up until 10-ish...but most stay open until early evening. Again, the biggest tip of all is to pick up Show Daily Magazine, which is usually readily available. There is a very useful map inside.

Q: What are your thoughts on pricing in general and tips to find the best deals? Is there a best area or time/day to shop?  
A: Price points are all over the map, as are the choices of products. The fields are open every day, but typically the weekends are busier than weekdays. For that reason, we try to avoid shopping on the weekends; the fields and venues are crowded and Highway 237 gets backed up. If your idea of "the best deal" means finding the widest selection of products, then shopping during the early days of Antiques Week is best; but if you're more interested in scoring a bargain, then it's best to shop at the end of Antiques Week. But always keep in mind that vendors at a show of this caliber have worked hard to gather the best. They've traveled far and have daily expenses just like everyone else; this is their livelihood, so it's not a game of the getting the best price. While the vendor may choose to offer a better price for an item or group of items, as a buyer, you need to be respectful. If you can't get an item at the price you want, graciously thank the vendor and move on.

Q: Do you have a favorite dealer or two that you always visit?
A: This is a tough one to answer. It depends on what I'm hunting for. I always hit all the vendors in Bar W. Then I cross the street to Chicken Ranch. Then I head on down the street to Excess. I will typically stop in and shop these fields several times during my stay. Vendors are bringing in new merchandise regularly. As far as my favorite vendors for sentimental reasons, I love Ben and Randall behind Legal Tender in the Rose of Texas Field. I have shopped from them since my first trip there...my biggest fear is that they will not set up one year, which would be heartbreaking. They are the epitome of what Antiques Week is all about.

Q: What was your most prized purchase at Round Top?
A: This is a toss-up. The "Dublin Café" sign that hangs in my dining room at our La Grange farmhouse is my number one prized purchase. I bought it in the Bar W field from Chaos. Number two favorite is the set of wooden lockers that are in our bedroom at the farmhouse. I bought those in the Tin Star field. I've had tons of prized purchases over the years—at least one each show—but these two are pieces I've chosen to keep and not resell.
Q: Do you have a "holy grail" list you continue to hunt for?
A: It's tough for me to shop off of a specific list, because when you do that you miss the pieces that speak to your heart. Some speak so softly; you really need to listen. Others just shout at you! But having my heart set on a wish-list item would close my eyes and ears to the whispers of those pieces that speak to me the most.

Q: Can you share pointers and advice on how/where to load up purchases and transport items you buy to a vehicle?
A: Most fields have adequate parking and make it convenient to drive in to pick up things you've purchased, and you can literally pull up to a vendor's space and load up there. Our typical game plan is to bring a 10-foot U-Haul, shop for 4 hours, and then backtrack through the fields to pick up our products. But even if you're shopping for yourself and not a store, be sure to keep good notes of what you bought and where you bought it. It can be easy to lose track after a long day of shopping. When it comes to the beautiful venue buildings, they all have parking, but you will need to cart your own items out to your vehicle. Most have great helpers to help you load, which is very helpful, but remember that it's a courtesy, so you should be prepared to tip for their services.
Q: What are your favorite restaurants or food stands?
A: Oh gosh...there are so many good ones. You will never go hungry! Most fields have food stands that feature everything from simple fare to gourmet eats. Almost all of the venues have great restaurants, food trucks and stands on their premises. Some of my favorites are The Garden Company, Mandito's, and Royers Round Top Café and Royers Pie Haven, all in the heart of Round Top. The Texas Rose Antique Show and Café between Round Top and Warrenton serves a fabulous chicken salad and sweet tea. If you stay in the La Grange area, the Texas One Stop of La Grange serves up the best BBQ and bakery products around. Get there early if you're a ribs fan...they sell out quickly. For a late afternoon treat, on the main road going into the Bar W field is the best little stand with root beer floats. I could go on and on about the food...it's all part of the amazing, one-of-a-kind shopping experience.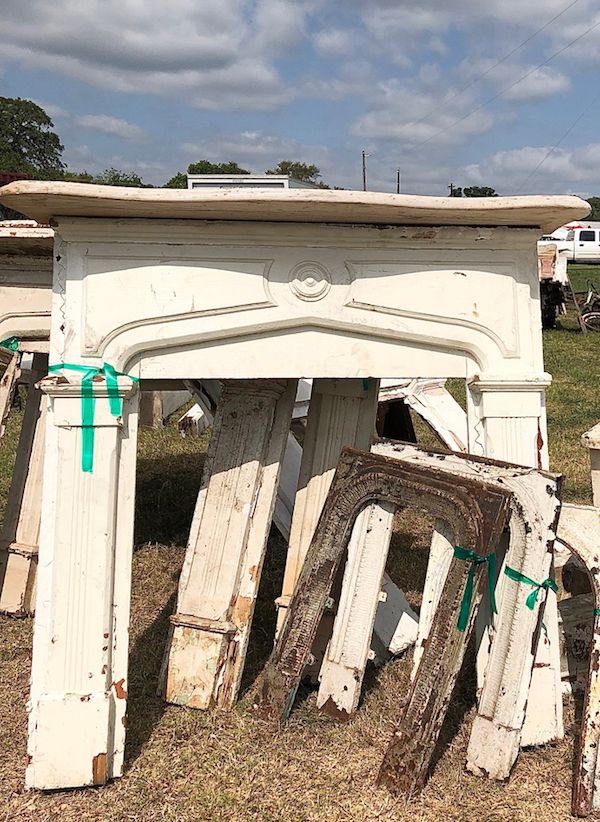 Does this look retired to you? Well, when Linda and Chris Bradford closed the books on their "regular" jobs, it freed them up to turn what had been a hobby for Linda into Junk Style Design, where they "source and sell goods that would have been lost or forgotten..."
---
PHOTOS Courtesy of Junk Style Design  
COVER PHOTO Courtesy of Marburger
---
RESOURCES Follow Linda and Chris on Instagram, here. You may also visit their warehouse in California by appointment.
---
Check out our story on planning for Round Top, here!
---
HOME PAGE
Join the newsletter to receive the latest updates in your inbox.